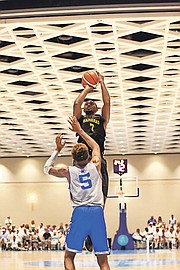 By BRENT STUBBS
Senior Sports Reporter
bstubbs@tribunemedia.net
COACH Penny Hardaway knew his University of Memphis Tigers men's basketball team would finally get the competitive game they got from the Bahamas men's national basketball team.
Not only was it physical, but it also had a little bit of a scuffle.
In the end, Hardaway and the Tigers walked out of the Baha Mar auditorium with a gratifying 87-77 triumph over the men's national team, coached by Chris DeMarco.
Saturday's victory was the third straight for the University of Memphis in their match-ups against local teams from the Bahamas in the Bahamas Basketball Federation's 2019 Summer of Thunder Basketball Tournament.
Having routed the New Providence Basketball Association's All-Stars 135-60 and the national champions Commonwealth Bank Giants 113-86 in their previous games, the Tigers had to dig down deep to prevail against the national team.
"I figured that the national team would be really good," said Hardaway, a former star guard for the Orlando Magic in the National Basketball Association.
"They were physical and they were well-organised, well coached and they had some really good players."
Memphis, shooting 11-for-32 from behind the three-point line, got 19 points and three assists from Tyler Harris off the bench, leaving three other players in double figures.
Lester Quinones had 17 points and five rebounds, DJ Jefferies added 14 points, 10 rebounds and three assists and Damian Baugh chipped in with 12 points, eight rebounds, six assists and two steals. Alex Lomax scored nine and Lance Thomas had eight.
For the Bahamas national team, which was 16-for-37 from behind the three-point arc, Jaron Cornish lit it up for 20 points and four rebounds.
D'Shon Taylor came off the bench with 20 points as well with 10 rebounds and three assists, Godfrey Rolle Jr had 10 points and eight assists, Mark St Fort had nine points and three rebounds and Robert Nortman had eight points and five rebounds.
After opening up an 8-0 lead, Hardaway watched as the national team responded with a three-pointer from Godfrey Rolle Jr to finally get on the scoreboard.
With Sacramento Kings' guard Chavano 'Buddy' Hield sitting on the bench to lend some support, the Bahamas got a couple of three-pointers from Jaron Cornish, D'Shon Taylor and Danrad 'Chicken' Knowles as the Bahamas rallied back to go up 15-9.
The Bahamas eventually went on to post a 24-19 advantage at the end of the quarter. Things, however, turned around in the second quarter as the Tigers were the ones canning the outside jumpers. The defining moment came when they were up 30-27 and there was a shoving match that saw Memphis get fuelled up and they extended their lead to 48-32 at the half.
"When they took the lead (Bahamas), we could have easily folded, but we got a few stops and got right back into the game," Hardaway said. "That was what I wanted to see."
That momentum carried over in the second half thanks to a basket and a pair of free throws from DJ Jefferies to go up by 10 (52-42).
Taylor and Cornish canned a three-pointer each and the Bahamas was down by three (54-51).
Memphis went back up by nine (65-56) but a pair of three-pointers from Mark St Fort brought the Bahamas within striking distance, trailing 67-62 going into the final 10 minutes.
In an early start in the fourth quarter, Daniel Baugh took matters into his own hands as he soared from the baseline for a one-handed dunk, drove through the middle of the Bahamas' defence for a two-handed slam and added a layup for a 73-62 margin.
"My approach was just to step up and play defence," Baugh said.
"I knew my team had my back, so that was what I did."
From that point, every challenge that the Bahamas mounted, Memphis was able to respond as Hardaway matched up with the smaller Bahamas line-up by running three and four and, at one point, five guards, on the court at the same time.
Despite the loss, his second in three games, coming off a big one to Georgetown Hoyas, coached by NBA Hall of Fame center Patrick Ewing from the New York Knicks, in their last game, coach DeMarco said he was pleased with the effort.
"I liked our chemistry. I liked how the bench was in to it," said DeMarco, the Golden State Warriors' assistant coach, who takers over from Mario Bowleg as the new men's head coach.
"We didn't rebound enough and we left three-point shooters open too much. Some of that is our lack of preparation and practicing together."
DeMarco, however, noted that there were a few new guys added to the team and they came in and contributed very well, noting that "they played their butts off. They competed. I'm really proud of them."
D'Shon Taylor, one of the new players on the team, said there was a lot of talent on the Bahamas' team and as they move forward, they will be okay.
"We have a new coach, we got some new fellows who played today, so I feel as thought once we clean up our transition defense and we keep practicing and going along with the game plan, we will be alright."
DeMarco said the next step now is to get the Bahamas men's national team ready for the next round of FIBA games in February. He said they will evaluate the players they saw this week and look at adding some of the others who didn't play for one reason or another.
The Bahamas will be preparing to play in the 2021 FIBA AmeriCup Qualifiers in February in a home and away series out of Group D against the United States, Puerto Rico and Mexico.