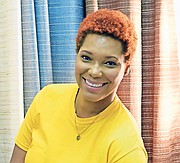 By ALESHA CADET
Tribune Features Reporter
acadet@tribunemedia.net
Five years ago, Tené L Thompson was sitting at her desk at work when suddenly, out of nowhere, her body seized up and she couldn't breathe. She didn't know if she was experiencing a panic or a heart attack. She lost sensation in both legs, causing her to fall to the ground when she tried to get up from her chair.
Her superiors at the time immediately sent her the hospital. Tené underwent multiple tests, everything from X-rays to CT scans and MRIs, and nothing was detected. After a week in hospital she was finally diagnosed with conversion disorder – a mental condition in which a person can experience blindness, paralysis, or other nervous system symptoms that cannot be explained by medical evaluation.
In Tené's case it was paralysis, and she required physiotherapy, aqua-therapy and electro-therapy to be able to walk again. As she moved on from this scary, life-changing experience, Tené realised she had to make a change for her overall well-being.
Today, she leads a holistic life and is now the owner of and therapist at the Health By Touch practice located in the Sandyport Marina Village.
Tené received her training at the Windsong College of Healing Arts British Columbia, Canada, and is now a certified holistic health and Shiatsu practitioner (CHHSP).
Through this journey, she told Tribune Woman, she found her life partner, got married and realised that the holistic path was her destiny all along.
"Stress was no longer going to control my health. Health and beauty are a part of self-care, and I believe that self-care is or should be a priority in everyone's life," she said.
"There are many benefits that can be obtained from this field: first and foremost is awareness. We become aware of what we lack to live a better life. The awareness obtained from this field exposes areas in which we are inefficiently utilising our time, energy and resources.
"Secondly, resilience to environmental changes – when we are intentional in creating a better life for ourselves – our bodies become stronger to manage the struggles of life, illness, disease and stress. Thirdly, simply to improve quality of life and more," said Tené.
Before starting Health By Touch, Tené said she considered seeking employment at an established therapy practice or spa to gain more experience and build her clientele. She always believed, however, that her services were unique and did not conform to the therapy modalities being used at most health facilities.
"Through prayer and encouragement from my husband, we decided to embark as entrepreneurs in this field. Our overall goal is to enlighten and educate our clients about their body's natural healing abilities. Through various holistic therapy methods we will encourage them to live healthy, happier lives," said Tené.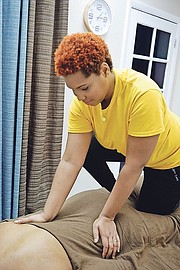 The therapies offered at Health By Touch include: acupressure – use of fingers to apply pressure to specific points along the body to promote healing and dissolve tension and stress; Shiatsu – a flexible Japanese therapy performed on the floor that includes applying pressure to and stretching muscles and tissues; Reflexology – ancient Chinese healing art of manipulating pressure points specifically on the hands, feet, face and ears; Reiki – a Japanese technique that uses the flow of energy to restore physical, mental and spiritual well-being; Hot stones – utilising heat from basalt stones to soothe muscle tension, release toxic materials and provide a deep state of relaxation and balance, and pre-natal – stimulating specific points along the body to relieve normal discomforts experienced during pregnancy and to nurture the female's changing body.
"Our hope is to eventually employ more therapists with a similar vision and background, provide media for home care, and partner with other practitioners of holistic and Western medicine in an effort to promote and facilitate total well-being," said Tené.
She is currently hosting spa parties in an effort to introduce different types of Eastern therapies offered at Health By Touch. The third instalment is expected to take place on October 12 and 13. Tené is also looking forward to hosting a Health By Touch Christmas promotion to offer spa party packages on December 7, 14, and 28.
"Outside of these promotional events, we have a makeup artist on-site and will continue to offer our regular therapy services," she said. Senior citizens, she added, can expect to receive discounts.