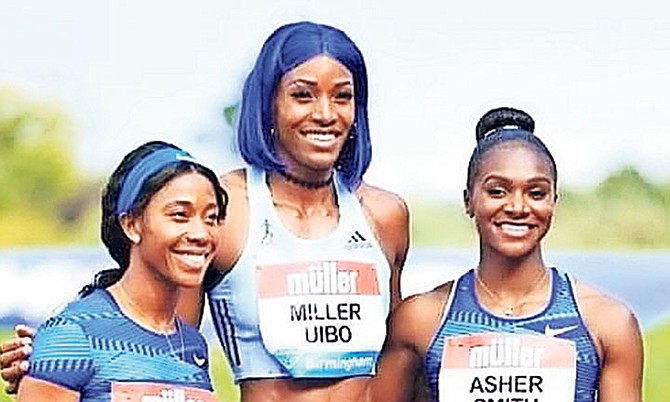 By BRENT STUBBS
Senior Sports Reporter
bstubbs@tribunemedia.net
With her performance in the Muller Grand Prix, Shaunae Miller-Uibo is heading to Zurich, Switzerland, next week for a hat trick as the International Amateur Athletic Federation's Diamond League 200 metre champion.
Last year in Brussels, Belgium, Miller-Uibo capped off her season by claiming the half-lap victory at the end of the 12-race series for the second straight year in 22.12 seconds over Netherland's Dafne Schippers, the runner-up in 22.53.
With the IAAF using a new format for the final in 2017 where the athletes, who qualified, competed in the final and secured their titles based on their single performances rather than the overall points accumulated, Miller-Uibo took the 200m crown in Zurich in 21.88 and added the 400m in 49.46 in Brussels.
This year, 25-year-old Miller-Uibo has locked down the sixth place with 16 points from her pair of victories in Birmingham, England, over the weekend and at the Herculis in Monaco in 22.09 on July 11.
The women's 200m final will take place on Thursday, August 29 at the Weltklasse Zurich in Zurich, Switzerland where, according to her manager Claude Bryan, Miller-Uibo is "training and getting ready."
Among the competitors expected to be matched against Miller-Uibo are Great Britain's points leader Dina Asher-Smith, Schippers, Jamaica's Elaine Thompson, Nigeria's Blessing Okagbare and United States' Jenna Prandini.
The other two qualifiers are Netherland's Jamile Samuel in seventh with 13 and Canada's Crystal Emmanuel in eighth with 10.
Americans Kyra Jefferson and Gabrielle Thomas round out the ninth and tenth spots with nine and seven points respectively.
Miller-Uibo, the Bahamian double national record-breaker in the 200 (21.88) and 400m (48.97), holds the distinction of using her lanky 6-foot, 1-inch frame to beat all of her rivals, who she's expected to face in Zurich.
In Monaco, Miller-Uibo topped the field in 22.09 as Thompson trailed in 22.44 with Schippers third in 22.45. American Teahna Daniels was fourth in 22.59, just ahead of Prandini in fifth in 22.66.
And in Birmingham, her time of 22.24 on Sunday was well ahead of Asher-Smith's 22.36 for second. Jamaica's Shelly-Ann Fraser-Pryce was third in 22.50, but she won't be a part of the 200m line-up at the Diamond League final.
Miller-Uibo, however, meets Schippers again who was fourth in 22.81 and Okagbare, fifth in 22.83.
Bryan, who heads the On Track Management group that also manages Bahamian male double 200/400m national record holder Steven Gardiner, confirmed that once Miller-Uibo is done in Zurich, the focus will switch to the 400m at the IAAF World Championships in Doha, Qatar, September 27 to October 6.
"That is what she has been prepared for by coach (Lance) Brauman all season," Bryan said.
He noted that Miller-Uibo intends to "make her fans in the Bahamas and globally real proud of her."
Since the last World Championships in London, England, where she attempted to go after a rare women's 200/400m double, only to falter down the home stretch after relinquishing a huge lead for fourth place in a bizarre finish and a third place in the 200m, Miller-Uibo has reeled off an impressive 25-race winning streak in all events, including the 400m.
With the schedule too compact this year in Doha with both the 200m and 400m heats a little over an hour in between on September 30 and the semi-finals on October 1, it's not feasible for Miller-Uibo to pursue the double, although the 200m final is on October 2 and the 400m final on October 3.
Bryan said they are hoping that there is some concession for Miller-Uibo to attempt it again at the Olympic Games in Tokyo, Japan in 2020.
"We have already petitioned the IAAF for Tokyo and I will be asking the BAAA to request the BOC's assistance in this matter to further entreat the IAAF to request an adjustment to facilitate," he said.
Bryan said there's no doubt that the Bahamas has a special gem in Miller-Uibo, one of the rare competitors who only comes along every blue moon.
The reigning Olympic 400m champion in Rio de Janeiro, Brazil in 2016 is going after her first one-lap title in Qatar, adding to the silver she claimed in 2015 in Beijing, China.
"On talent, she's special, real special," he summed up. "The trick is to now convert talent into results and her commitment to success and her preparation pertains to further good success."
Miller-Uibo is the only Bahamian eligible to compete in any of the two finals this year.
National record holder Pedrya Seymour is the closest to joining her, occupying a tied 10th place with American Queen Claye with six points in the women's 100m hurdles.
Last year, Donald Thomas finished fifth in the men's high jump in Brussels with a best of 2.29m, while in Zurich, Gardiner didn't get to complete the men's 400m.
Neither Thomas or Gardiner has made the top 10 in the standings in their respective events this year.
Jamal Wilson is 15th in the men's high jump with five points.