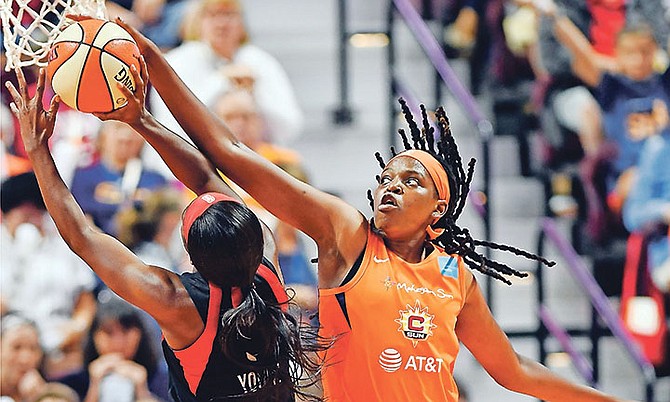 LOS ANGELES (AP) — Riquna Williams scored 21 points and the Los Angeles Sparks beat Connecticut 84-72 yesterday, knocking the Sun out of the top spot in the WNBA standings.
Jonquel Jones posted another double double - 16 points and 12 rebounds.
Nneka Ogwumike added 16 points and reached the 4,000 point milestone early in the game. She is the 38th player to reach that mark and the 14th fastest (244 games).
The Sparks (18-10) were playing their second game in a row with no injured or suspended players.
Candace Parker added 13 points and Chelsea Gray scored 12.
Parker had five assists and passed Vickie Johnson (1,205) into 15th in the WNBA career assists leaders, finishing the game with 1,208.
The Sun (20-9) had a four-game winning streak snapped and dropped a game behind the Washington Mystics (21-8).
Courtney Williams had 18 points, nine rebounds and five assists and Shekinna Stricklen scored 12 points.
Sky pull away
late to beat
Mercury 94-86
PHOENIX (AP) — Allie Quigley scored 24 points and passed 1,000 career made field goals to help the Chicago Sky beat the Phoenix Mercury 94-86 on Sunday.
Courtney Vandersloot added nine points, nine rebounds and 13 assists for the Sky (18-11), who have won three straight and are in the hunt for a first-round bye in the playoffs.
Chicago pulled away with an 8-0 run sparked by Stephanie Dolson's layup with 2 minutes left and capped at 92-82 on Vandersloot's pair of free throws with a minute to go.
Diamond DeShields had 18 points, Cheyenne Parker added 14 points and 12 rebounds, and Astou Ndour had 13 points and 10 rebounds for the Sky.
Brittney Griner had a season-high 34 points for the Mercury (13-15). DeWanna Bonner added 18 points, 11 rebounds and five assists. Diana Taurasi had 12 points in her return from a hamstring injury and a one-game suspension.
In just her second game of the season, she made all eight of her free throws.
But she struggled from the field with 2-of-13 shooting.