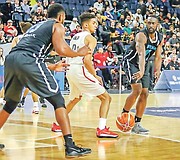 By RENALDO DORSETT
Tribune Sports Reporter
rdorsett@tribunemedia.net
AFTER a successful late-season stint with Actel Forca Lleida less than a year ago, Shaquille Cleare resigned with the club for the upcoming 2019-20 campaign.
Actel Forca Lleida competes in Spain's Liga Española de Baloncesto – Gold, the second division in the country's basketball system.
Cleare was brought in to help the club maintain the loss of injured centre Massine Fall for a late season playoff push. In nine games, he averaged 11.7 points, 5.8 rebounds and 1.6 assists per game.
With Actel Forca Lleida, Cleare will once again become teammates with Michael Carey Jr at the pro level.
Carey signed with the club earlier this month. The pair also suited up for the Tampico Huracanes in the Mexican LNBP league.With Huracanes, Cleare averaged 11 points and 2.7 rebounds per game. Prior to Mexico, he was signed with BBC Lausanne of Championnat LNB League, the second-tier of pro basketball in Switzerland. In his first season of professional basketball he averaged 12 points and seven rebounds per game.
Cleare was most recently a member of Team Bahamas that finished second among Group Phase A at the AmeriCup 2021 Pre-Qualifiers, hosted in Belize City, Belize. The team concluded with a 2-1 record.
Cleare finished with 16 points on 7-9 shooting from the field, 13 rebounds and two blocked shots.
In his senior season with the Texas Longhorns, Cleare posted his best individual numbers of his collegiate career.
The 6'8", 275 pound forward averaged 8.3 points and 4.6 rebounds per game. He posted a career high 23 points in an 84-83 win over the Oklahoma Sooners and a career high nine rebounds in a loss at Baylor. Cleare averaged 3.6 points and 2.9 rebounds per game as a junior, his first with the Longhorns after transferring from Maryland. He spent the previous season as a redshirt, but worked out with the Longhorns and went through two-a-day practices routinely.
As a freshman, Cleare appeared in 37 of 38 games for the Terps, including eight starts. He averaged 3.7 points and 2.7 rebounds in 12 minutes per game.
As a sophomore, Cleare averaged three points and 2.5 rebounds in 13.8 minutes per game while appearing in all 32 games with 20 starts.
Cleare joined the Terrapins' programme as a highly touted recruit out of the Village School in Houston, Texas, where he averaged 26.5 points, 10 rebounds and three blocks per game.
He was listed as the No.30 overall prospect by ESPN and No.53 by Rivals.com for the Class of 2012.