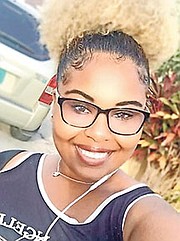 By FAY KNOWLES
At age 18 and just a year into studying law and criminal justice at the University of the Bahamas, Mercedes Taylor is spreading her wings in more ways than one. She is also the founder and owner of Mercedes Rose, a clothing boutique, and Mercedes Rose Cosmetics, with a relatively big clientele.
The entrepreneurial spirit runs in Ms Taylor's family. Her mother is best-selling author Tanya R Taylor.
"My mother has inspired me because she's doing her own thing as an author, working for herself and doing what she loves to do," said Mercedes. "I want to be like her. I want to do something that I love and that's what I've embarked upon."
She said her mother and father, Oswaldo Taylor, have always encouraged her to soar like an eagle. "I realise that no matter how high the mountain is, God has given me everything I need to make the upwards journey as He has an amazing plan for my life."
Mercedes' maternal grandmother, Gwendolyn Ferguson, was in the clothing retail business for many years, running her own store. And her maternal grandfather, the late Cecil Caleb Ferguson, was an entrepreneur in the paving industry.
"Pa was very industrious and purchased his first home at the tender age of 21," said Mercedes of her grandfather. She fondly remembers his words to her: "Think big!"
In her boutique, she said, she mainly sells clothes and accessories. "In my cosmetic boutique I sell hair and make-up products." She has always had a passion for fashion and beauty, "so I decided when I got older I wanted to do it for a living."
The target group for Mercedes' businesses are girls and women from age 15 to 56.. She has a pick-up and delivery service available for both of the businesses.
Her mother said: "Mercedes is a hard worker and believes strongly in providing good customer service."
"My customers are in love with my clothing – the quality, how they fit their bodies, and they love my cosmetics," said Mercedes.
Recently, Mercedes received a voicemail from one of her customers who had purchased some make-up from her. "She talked about how the powder melted into her skin and looked so natural; there was no flashback when she took a photo. I also sold her an eyeliner and she said it was the best eyeliner she had ever purchased in her life. It went on so smoothly!"
When asked what she enjoys most about running her own businesses, the teen said: "I really enjoy working for myself and I like when my customers are happy about the items they purchased and come back and say something like, 'Mercedes, oh my gosh! I love this outfit or I love this make-up item, the hair paint wax or how the make up looks on my skin. It's so nice!' "
She also loves studying law at UB, "knowing I'm working towards one of my goals. It's a lot of hard work, but I always say that hard work pays off."
Her mother said Mercedes has a natural inclination to become a lawyer. "It's just a desire inside of her to be the best attorney she can be and to help as many people as she can even if she ventures into other aspects of the law as well." She said when Mercedes' grandfather heard that she wanted to become a lawyer he said: "Oh yeah! She's supposed to be a lawyer."
"It was as if he had a knowing inside of him," said Mrs Taylor.
Mercedes is a graduate of St John's College and was on the basketball and volleyball teams, and was a member of the Student Christian Movement. Prior to that she attended H O Nash Junior High School from which she graduated as the Female Athlete of the Year.
Her goal is to specialise in corporate law and to minor in human resources management. She aspires not only to become a lawyer, but an entrepreneur with multiple businesses which she plans to expand beyond the Bahamas. Her hobbies include reading and watching Netflix.
After Mercedes graduates from university, she said she wants to go straight to a law firm and start working and expanding her businesses.
To keep up with her endeavours, check out Mercedes Rose on Facebook, on WhatsApp at 434-5661 or contact her on Instagram at mercedesrose_cosmetic_boutique & mercedes.rose__.