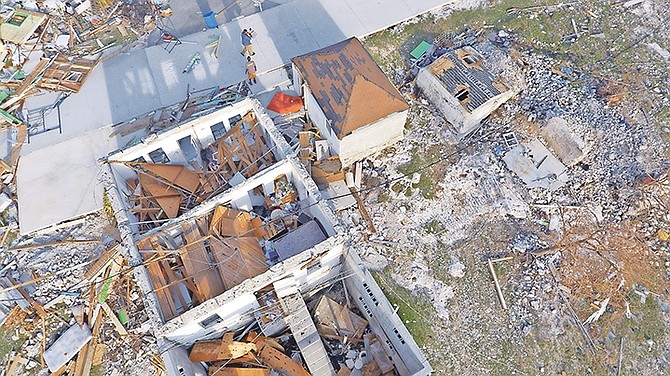 By MORGAN ADDERLEY
Tribune Staff Reporter
madderley@tribunemedia.net
DOPPLER weather radars will be installed in Mayaguana and Ragged Island "early next year" - meaning by 2020, the Bahamas will have "total radar coverage" for approaching systems, Department of Meteorology Senior Deputy Director Jeffrey Simmons confirmed yesterday.
Mr Simmons made these comments while providing updates about Hurricane Dorian at a press conference yesterday. The storm is expected to begin impacting the southeast Bahamas tonight.
New radars have already been installed in New Providence, Abaco, and Long Island. A fourth new radar will be installed in Mayaguana and a "refurbished" radar in Ragged Island. Mr Simmons added these will be in place before the 2020 hurricane season.
Department of Meteorology Director Trevor Basden announced plans to add four Doppler radar systems were "in the works" in November 2015.
At the time, Mr Basden said international experts who travelled to the Bahamas to assist with efforts following Hurricane Joaquin in October 2015 have called for the installation of at least two additional radars.
Shortly after Hurricane Joaquin devastated islands in the central and southeast Bahamas in 2015, Department of Meteorology forecaster Wayne Neely claimed that the department's Doppler radar was not functioning for several hours during the passage of Hurricane Joaquin.
However, this was strongly refuted by such senior meteorology officials as Mr Basden and then Transport and Aviation Minister Glenys Hanna Martin.
Mr Simmons referenced this matter yesterday when asked if the country's radar systems are currently operational.
"The case you're talking about (was in) 2015 with Hurricane Joaquin," Mr Simmons said.
"At that time the Department of Meteorology was in possession of one Doppler weather radar, which was operational at the time. However, a radar only have the ability to see so far due to the curvature of the earth. A radar can only see about 250 miles out.
"Hurricane Joaquin never came within 250 miles of New Providence, where the radar was situated. That is the reason why Hurricane Joaquin was never seen on our radar. Nevertheless we knew it was there and we did what we had to do to sound the warnings that (were) necessary.
"Since 2015, the Bahamas Department of Meteorology has entered an agreement to purchase and instal four new Doppler weather radars throughout the Bahamas. And also to refurbish that old radar (from) 2015 and put that in place. That radar is to be placed in Ragged Island."
Mr Simmons added new Doppler weather radars have been placed in New Providence; Marsh Harbour, Abaco; and Millers, Long Island. He confirmed these are currently "up and operational".
"Plans are (to) by early next year to place another new Doppler weather radar in Mayaguana and the refurbished weather radar in Ragged Island. With those five radars in place, then we would have total radar coverage for the Bahamas so that any system that would enter into the Bahamas and its adjacent waters would be seen by us as it approach and passes through the Bahamas."
He added the current radars provide the country with coverage for all of the northern and central Bahamas as far as Acklins and Crooked Island. However, he noted the coverage for those southern islands is "not very good".
"That's the reason why we want to put another one in Mayaguana," he said, adding this particular radar "will then cover those parts of the southern Bahamas that are not being (visible) at this time."
While he admitted that means the radars do not provide total coverage for this hurricane season, Mr Simmons noted this does not diminish the ability to provide accurate forecasts.
"The weather radar is an important tool in our ability to track and forecast hurricanes, however it is not the only tool," he said. "We have other tools available to us that we use such as satellite imagery."