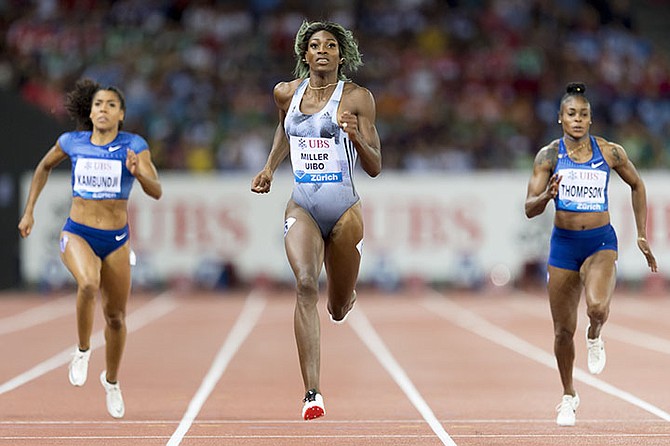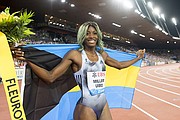 By BRENT STUBBS
Senior Sports Reporter
bstubbs@tribunemedia.net
Shaunae Miller-Uibo was in a class all by herself as she shattered the Bahamian national record, the Diamond League record and a personal best in running a world-leading time of 21.74 seconds to win the women's 200m final at the International Amateur Athletic Federation's Diamond League.
"Oh my gosh. It is a blessing. This is my last run before the World Championships," said Miller-Uibo, who provided a sneak preview of what to expect in Doha, Qatar, September 27 to October 6.
"My coach did a great job. I am in great shape. It is just a blessing. I am very happy about it. I am very excited."
Great Britain's Dina Asher-Smith, who came off the curve with a slight lead, eventually trailed Miller-Uibo for second place in a season's best of 22.08.
Thompson, the Olympic champion, had to settle for third in 22.44. Dafne Schippers from the Netherlands was fourth in 22.44.
In winning her third straight and fourth title, Miller-Uibo's time is now posted tied as the 11th fastest All-Time on the outdoor list with Great Britain's Marlies Gohr in 1984; Silke Moller in 1987 and Jamaica's Veronica Campbell-Brown in 2008.
The list is headed by American Florence Griffith-Joyner with her world record-breaking time of 21.34 in 1988.
Miller-Uibo, 25, also lowered her national record of 21.88 that she established last year in winning the title at the same meet in the Stadium Letzigrund at the Weltklasse Zurich in Zurich, Switzerland.
And she erased the Diamond League record of 21.77 that was set by American Tori Bowie in 2017 and surpassed the world-leading time of 22.00 posted by Jamaican Olympic champion Elaine Thompson on June 23 at the Jamaican Nationals in Kingston, Jamaica.
"This is my second PB (personal best) in Zurich. I guess it is a good track for me," she said.
Miller-Uibo, who earned a $50,000 payday for her performance, was the only Bahamian competing in this year's Diamond League Final, which enabled competitors to accumulate points in 12 meets from Doha on May 3 to Paris, France on Saturday.
It was the first of two finals with the last one scheduled for Brussels, Belgium, at the AG Memorial Van Damme on September 6.
Miller-Uibo, 25, now switches her attention to the World Championships where she reconfirmed that "at the World Championships, I will run the 400m, not the 200m."
At the last World Championships in London, England in 2017, Miller-Uibo attempted the rare 200/400m double for women. She held a significant lead heading down the home stretch, only to suffer a freak collapse in the final 50m for fourth place. She came back and secured the bronze in the 200m.
Since those championships, Miller-Uibo has racked up a 25-race victory, covering the 200 and 400m as well as the 300m where she clinched a world's best time of 36.41. In the 400m, Miller-Uibo currently has the world-leading time of 49.05 she ran on April 27 in Gainsville, Florida. She is followed by Salwa Eid Naser from Bahrain, who ran 49.17 in Pontaise, Lausanne, Switzerland, on July 5.
Prior to Miller-Uibo's victory, Naser took the women's 400m title in Zurich in 50.24 over American Shakima Wimbley, who did 51.21.
"I'm happy with the result today. Good ambient and nice track," Naser said. "The race was very hard for me and the training this last week was a bit tough, but I did good today and I'm just amazed and feeling good.
"Now I get back to the training and get ready for Doha."
In Doha, the heats for the women's 400m is scheduled for Monday, September 30 with the semi-finals on Tuesday, October 1 and the final on Thursday, October 3. The 200m final is set for Wednesday, October 2.
Miller-Uibo has requested for the IAAF to amend the schedule for the 2020 Olympic Games, set for July 31 to August 9 so she will pursue another 200/400m quest.
In its present form for Toyko, Japan, there is a few days' rest between the two events with the women's 200m final on Tuesday, August 4 and the women's 400m final on Friday, August 7.
Stay tuned.