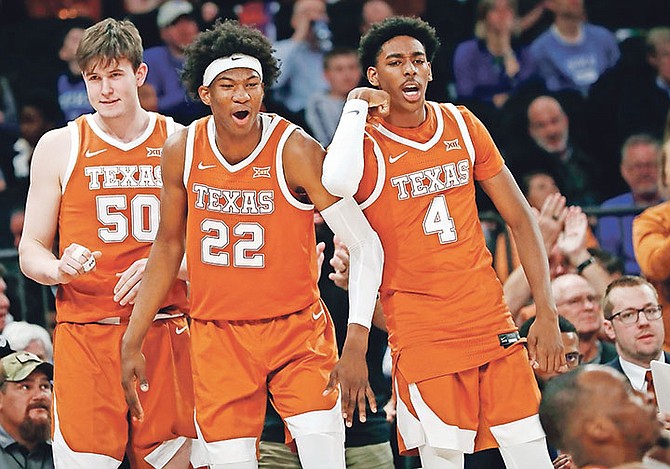 By RENALDO DORSETT
Tribune Sports Reporter
rdorsett@tribunemedia.net
KAI Jones made the most of a rare opportunity he has had this season with the Texas Longhorns.
Jones finished with eight points on 4-5 shooting from the field in just 10 minutes of the Longhorns' 73-71 win over McNeese State. He set a season high in points and goals made and played his second most minutes of the season. On November 22 he played a season high 17 minutes against California and finished with four points.
Texas improved to 6-1 on the season, their best start under head coach Shaka Smart.
Jones, an incoming member of the 2019 freshman class, came to Texas as one of the top 50 Prep Basketball recruits in America. He was listed at No. 49 in the final ranking of the ESPN Top 100 for the Class of 2019 following his standout season at Brewster Prep Academy in Wolfeboro, New Hampshire.
Listed at 6'11" 212 pounds, Jones, a consensus four star recruit, earned a scout grade of 88 overall and was ranked No.13 among all centers, No.12 in his region and No.1 in the state of New Hampshire.
He got five minutes in each of his first two appearances with the Longhorns before the game against California.
In the SEC, Valarie Nesbitt continues her production since her breakout game over Louisiana Tech just over a week ago and has averaged over 17 points per game in her last three contests.
The junior point guard finished with 14 points, tied her career high with six rebounds and added five steals but the Rebels lost 58-50 to the Pittsburgh Panthers at the 2019 Daytona Beach Invitational.
"We just couldn't get stops and make shots when we needed to," said Ole Miss head coach Yolett McPhee-McCuin said, "We didn't get rebounds when we needed to. If we want to win games, we have to get stops. We had opportunities to get the ball so we could go in transition, and we didn't. We gave them offensive rebounds. The rebounds hurt us tonight."
Ole Miss fell to 5-3 and is now faced with more Power 5 matchups at this point in their schedule.
"It was our first time playing a team like this, a power five team," McPhee-McCuin said. "(Pitt) came out and punched us in the mouth. Now we know what it's like. You have to play every possession versus power five teams. You can't just come out and be bigger and stronger, that is not going to happen. Because of it, we did not come out of it with a victory. So, we have to learn from this and keep going."
Nesbitt finished with 12 points, eight assists, eight steals and six rebounds in the Rebels' 73-56 win over Louisiana Tech on November 23, her fifth game as a Rebel. Since then she finished with 18 points against Sam Houston State followed by a career high 20 points against Alcorn State.
Radshad Davis finished with nine points and a team-high-tying four rebounds in Texas Arlington's 77-67 win. The senior guard is averaging 6.3 points and 4.3 rebounds per game this season.