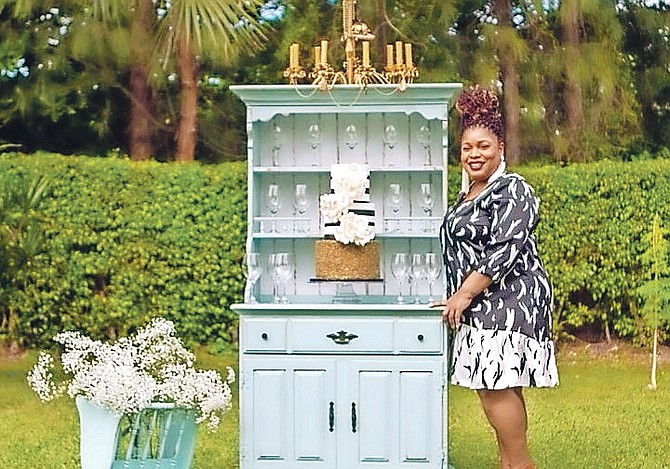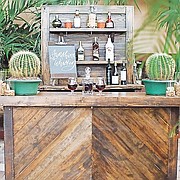 By ALESHA CADET
Tribune Features Reporter
acadet@tribunemedia.net
When Gina Sands-Brooks started planning for her dream wedding in 2016 she quickly became frustrated with the limited options when it came décor and other choices.
She said people have to understand that a wedding is an extremely special event in the lives of many women, and one they do not want compromise on. "It was very frustrating having to search so hard to get what we needed," she told Tribune Woman.
And while many weddings here in the Bahamas do end up looking similar, that doesn't mean couples would not love to put their own stamp on proceedings if afforded the opportunity.
In Gina's case, she preferred unique vintage pieces, a rustic looking décor, or even a farmhouse theme. All of which was extremely difficult to get locally. But as the saying goes, if you want something done right, do it yourself. And that is exactly what Gina decided to do by starting her own a party supply/rental and home décor company called IslandGal Farmhouse.
The same year they were wedding planning, Gina said she and her husband-to-be also did a lot of travelling, "and like divine intervention we found ourselves drawn to spaces and people who planted the proverbial IslandGal Farmhouse seed in our minds. Long story short, over the course of one year, a combination of events and encounters with other creatives helped to build the concept of IslandGal Farmhouse."
With IslandGal Farmhouse, Gina hopes to provide Bahamians with an escape from "cookie cutter" weddings and other events, by offering décor and props which so far have not been available from local vendors; eye-catching pieces that will allow customers to give free rein to their creativity.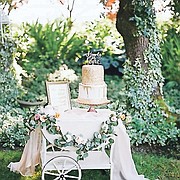 "If we don't have what a client is looking for we will go hunting for it, using our network of collectors and partners that we have cultivated. As IslandGal Farmhouse was born out of a need when we were planning our own wedding, it hits close to home and is very important for us to do our best to ensure clients find the right pieces to fit the vision they set for their event," she said.
"Our pieces have stories and personalities, so we have named each piece. Our vintage pieces in particular have real history by nature so when you book a vintage piece we share the story so that you have a true conversation piece at your event."
Coming from a close-knit family of successful entrepreneurs, Gina said running her own business soon became second nature to her. Describing herself as a creative at heart, she has always found ways to monetise her hobbies.
"For example, if we go as far back as high school, I was designing, making and selling clothes to my classmates for events. So when my husband and I moved to start IslandGal Farmhouse it wasn't an unfamiliar journey," she said.
Since officially getting the rental service off the ground in February of this year, she said her most unique experience came when they supplied a customer with a vintage blue shelf to be used as a scotch and whiskey bar in a "man cave" section of a baby shower.
"Imagine football on a large flat screen TV, bottles of scotch and rum, boxes of cigars – very rugged and masculine, right? But our styled piece added the right amount of delicateness so that all the décor blended together beautifully," she said.
"My primary goal at this stage is to be the premier event prop destination for pieces in our specific style. I'm not interested in stepping into event planning or even volume chair and table rentals – we have lots of extremely talented vendors in this space who we have been happily working with this past year.
So far, she said IslandGal Farmhouse has received surprisingly positive feedback, especially from event planners and photographers.
"We also get great responses from everyday women planning their own weddings. We don't offer mainstream or conventional products so it's quite refreshing to see the level of interest in our pieces. At the same time, we appreciate that our style will not appeal to everyone's tastes. Luckily for us, we are in the most active event season of the year so we will be busy with bookings for the remainder of the year. We have some exciting things planned for the future but you're going to have to wait and see," said Gina.
IslandGal Farmhouse is based in Nassau but can accommodate bookings on select Family Islands. For more information, check out IslandGal Farmhouse on social media.