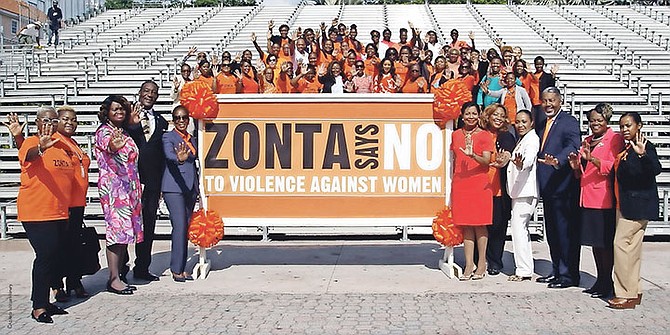 By FELICITY DARVILLE
The Bahamas government has made a commitment to end gender-based violence in the country by 2030. Minister of Social Services and Urban Development Frankie Campbell made the announcement during the launch of "16 Days of Activism to End Violence Against Women & Girls" on Monday, November 25. The launch was held on that day as it commemorates the International Day to End Violence Against Women & Girls". The United Nations' sanctioned 16 days ends on December 10, which is International Human Rights Day.
Zonta Bahamas has been leading the charge in heavy activism for the cause for the past seven years. This year, Zonta is joined by other NGOs including the National Congress of Trade Unions' Women's Association and SMART Women, under the theme: "From Activism to Accountability". The goal is to have the Bahamas government agree to ratify "C-190", the International Labour Organisation's Convention to end violence and harassment in the workplace. The NGOs are working closely with the Department of Gender and Family Affairs, which is also celebrating National Women's Week.
Marisa Mason-Smith, National Advocacy Chair and member of Zonta Club of New Providence, said Zonta will continue to lead the advocacy with awareness campaigns, media appearances, symposiums, conferences and events designed to bring national awareness to the seriousness of ending violence against women and girls.
Today, there will be a "Trafficking in Persons" forum at the Ministry of Social Services hearing room at 12noon; the National Women's Luncheon takes place on Friday, December 6, at the Meliá Nassau Beach, and on Saturday, December 14, Zonta will host its annual community outreach event "Take a Walk in My shoes" in the Fox Hill Community from 2pm to 6pm. The public is encouraged to donate new or gently-worn shoes. For more information on these and other events, e-mail zontaclubnewprovidence@yahoo.com or find them on Facebook.