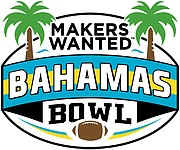 By RENALDO DORSETT
Tribune Sports Reporter
rdorsett@tribunemedia.net
BOTH head coaches for the respective programmes headed to the Maker's Wanted Bahamas Bowl continue to tout the resilience of their teams and the obstacles they overcame this season to eventually become bowl eligible.
Both the Charlotte 49ers and Buffalo Bulls look to win their first bowl game in school history which also marks the first-ever meeting between the teams.
Charlotte (7-5 overall, 5-3 in Conference USA play) will play in its inaugural bowl game in the seven-year football history of the programme. The 49ers will enter the Makers Wanted Bahamas Bowl on a school record five-game winning streak.
"The ups and downs of this year have been amazing. We lost four in a row, came back to win five in a row, reach the first bowl game in school history and most wins in school history. We're on a five-game winning streak and the guys have an opportunity to keep playing, which is a big deal," said 49ers head coach Will Healy.
"We're very fortunate. Now we're spoiled, we got to go to the Bahamas for our first game so I don't know if I would want to go anywhere else but it's a great experience."
Healy is in his first season with the 49ers and his fourth season as a college head coach (20-26 overall record at Charlotte and Austin Peay). He was the 2017 FCS Eddie Robinson Coach of the Year award winner at Austin Peay as the Governors advanced to the NCAA FCS quarter-finals that season.
Healy credits the foundation the previous staff set in place for the 49ers success this season as his quick ability to turn the programme around.
"Brad Lambert started this programme, was here for the last six years and he did a really good job. I've been fortunate to work with a really great staff where our players have bought in, got some good players on the roster that got hot at the right time," Healy said.
"Belief is a powerful thing, the winning has become contagious and we've gotten on a roll."
Mike Hill, Charlotte's athletic director, said his first year head coach has infused the programme and entire institution to a resurgence with his youthful exuberance.
"We knew we had the potential of an exciting hire when we hired Will. Really what we were looking for was an infusion of energy in our programme and he delivered that in spades for us. He's electrified our student body, our programme our football team DNA from a recruiting standpoint," Hill said.
"I can't say that I predicted we would be in a bowl game in year one, but really proud of the job he and the staff have done, and the job our kids have done to get to this point."
Its a wow factor from a recruiting standpoint. We have to play a football game but just the time to enjoy this is something special. We've taken a step to go to consecutive bowls games but we have yet to get a win so it is something we are definitely striving hard to get.
Buffalo (7-5 overall, 5-3 in the Mid-American Conference) is led by head coach Lance Leipold, who is in his fifth season (30-32) with the Bulls and his 13th season as a college head coach.
The Bulls have overcome a pair of losses at the quarterback position, but led by one of the top rushing attacks in the nation, were able to become bowl eligible for the second consecutive year in Leipold's brief history with the programme.
"It was a little bit of a challenge and our starting quarterback this year Matt Meyers was injured for the rest of the season in game five, Kyle Vantrease has taken over and really done a great job of leading our team and I think after a couple of games as a starter we started to hit our stride alot."
The Bulls average 254.3 yards per game rushing with 33 touchdowns, and that attack is led on by sophomore running back Jared Patterson, who has rushed for 1,626 yards and 17 TDs, including a school-record and MAC-record-tying six TD runs on a 26-carry, 298-yard game against Bowling Green in the regular season finale. Redshirt sophomore quarterback Kyle Vantrease has thrown for 1,116 yards and seven TDs. The Bulls have averaged over 34 minutes of possession time per game.
"We're a team that's balanced with two dynamic running backs, one is which (Patterson) of the leading rushers in NCAA football right now and he's scored 11 touchdowns in the past two games," Leipold said, "We have 12 All-Conference players, our defense is rated nationally among all Division I schools with seven defensive stats in the top 10, we played good team ball this year. We have a younger ball club really excited for this opportunity to take in everything."
Bowl season will begin in the Bahamas when the Bulls, (Mid-American Conference) and 49ers (Conference USA) faceoff Friday, December 20 at 2pm at the Thomas A. Robinson National Stadium.
The game will be televised on ESPN and broadcast on the Makers Wanted Bahamas Bowl Radio Network as both teams vie for the Prime Minister's Trophy.
The Makers Wanted Bahamas Bowl is the longest-running international bowl game in college football history, and in 2019, the game is the opening contest of the bowl season during college football's 150th anniversary celebration.
The game will be sponsored for the second year by Elk Grove Village, Illinois, using its business slogan – Makers Wanted. The Makers Wanted tagline serves as a call-to-action for Elk Grove Village's thriving community and the thousands of businesses that are based there. It is home to the largest contiguous industrial park in the United States, featuring six square miles and 62 million square feet of inventory.
For more information on the 2019 Makers Wanted Bahamas Bowl, visit MakersWantedBahamasBowl.com.
The game is one of 16 postseason bowl games owned and operated by ESPN Events, a division of ESPN.