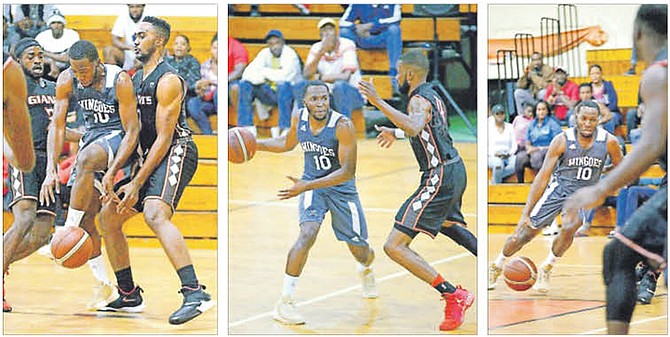 KEMSY Sylvestre scored off the opening tip for the University of the Bahamas Mingoes to put them up 2-0 on the Commonwealth Bank Giants.
It was the only time the Mingoes' led in the game against the undefeated team in the New Providence Basketball Association men's division one competition.
The Giants went on a 28-4 run in the next five minutes of play and really never looked back in the 107-87 win Friday night at the AF Adderley Gymnasium.
The Giants dominated the Mingoes on the boards - 56 to 39 - that translated into 34 fast-break points on the game.
The Giants controlled the game for most of the contest. With 8:25 to go in the third quarter, Giants forward Eugene Bain scored on an easy layup to put his team up 67-37 - the largest lead of the game at 30 points.
Bain led the Giants with 25 points and 16 rebounds. Adam Johnson scored 20, D'shon Taylor 15, Michael Bain 13, and Jackson Jacob and Renardo Baillou each scored 12 in the win.
Sylvestre led all players with 26 points for the Mingoes. He also had three steals and two blocks.
Robert Joseph put up 21 points while pulling down 10 rebounds. Romero Cornish scored 14 for the Mingoes as well. Rashad Sturrup led the Mingoes on the boards with 14 rebounds to go along with 12 points.
Mingoes head coach Bacchus Rolle said his team just ran up against an offensively great team.
"They are very skilled at every position and we let them get too far ahead of us early in the game," he said. "We talked about trying to keep it close but we didn't have the discipline offensively early in the game and we paid for it."
The Mingoes cut the lead to nine points twice in the fourth quarter. First off a jumper from Ujamaa Johnson with about 4:37 to put the score at 91-82, and then Sylvestre at 3:54 on a driving layup put the score at 93-84. The Giants ended the game on a 17-3 run to keep the Mingoes at bay.
"We ran out of gas," Rolle said. "Whenever you are battling back from 20 points down most of the game, you might get a good run but you can't sustain it because of your leg and fatigue. Tonight we only went about eight deep on the bench so we had fatigued players. It's difficult to come back from that kind of deficit against a strong team like the Giants."
The Mingoes next play at 9pm Friday against the Wolverines at the AF Adderley Gym.
They then play another international two-game set in Orlando later this month.