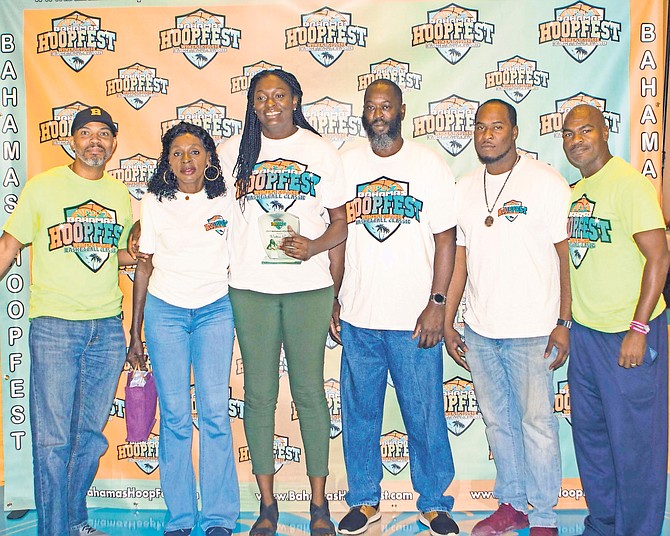 By BRENT STUBBS
Senior Sports Reporter
bstubbs@tribunemedia.net
AS she was being honoured recently by Bahamas Hoopfest as the first Bahamian to be drafted to play in the Women's National Basketball Association, Waltiea Rolle was making plans to head over to Europe to continue her professional basketball career.
The 29-year-old mother of two daughters, who played for the North Carolina Tar Heels, said she got the call right at the start of the Bahamas Hoopfest tournament for college women that ended on November 30 at Baha Mar.
"When I go into these countries, I never know what to expect," Rolle said. "I just have to go there and give it my best. I just want to make the most of my experience."
Having come off a two-month sting in February with the Xianjiang Magic Deer in the Chinese Women's Basketball Association, the 6-foot, 6-inch forward/centre said they are expecting her to make an impact right away, just as they do with any foreign players.
"I went through a lot of things," Rolle reflected.
"In my junior year in college, I got pregnant with my first daughter. People experience things. They experience obstacles, but that doesn't mean they have to give up. You have to keep pushing and believing in the things that you believe in."
Rolle, in expressing her gratitude to organizers Dr Simon Hinsey and coach Marvin Henfield, Rolle said it was a privilege and an honor to have finally been recognized in the manner that they did it.
"It means a lot because I've gotten different honors, but this is different, having it done during a tournament for women," Rolle said. "It provides an opportunity for other young women in the country to realize that they too can one day be honored for their accomplishments."
No one was more proud of her achievements than her parents Donna and Maxwell Rolle, who sent her to Houston, Texas at the age of 13 where she was under the tutelage of Olympic bronze medalist Frank Rutherford as she enrolled in Westbury Christian High School.
"I feel good about this honor for her," her father stated. "She made us proud. As a father, you only want the best for your children and I couldn't ask for anything more for her."
As for the tournament, Rolle felt it was long overdue for his daughter, but he too expressed his gratitude to Hinsey and Henfield. He noted that it's good that it came just before she headed back to Europe to continue her career.
It's the first time that such a tournament has been held in the Bahamas and Rolle said it brought back memories from the days that she played on the collegiate scene for the North Carolina Tar Heels.
Rolle got started playing at for the Lions, coached by Pattie Johnson at HO Nash Junior High School. She moved on to CR Walker Secondary High, but only stayed there one year before she left for Houston.
Over the past eight years, Henfield has been working with Rolle as she made her transition in the WNBA and on the European circuit. He said he and Hinsey decided to honor Rolle for a number of reasons.
"She was the first Bahamian to be drafted and to play in the WNBA, which is significant in so many ways because there are a lot of young girls in athletics, particularly basketball, who are aspiring to reach the levels that she has attained," Henfield said.
"It's my view that since she has opened the door, we have to continue to keep it open with having done with Jonquel Jones being the second Bahamian to play in the WNBA. One of the ways to keep it open is to celebrate her because we have a lot of girls from over the hill like her, coming out of Mason Addition, who just need a chance."
As she prepares to return to Europe, Henfield said he's looking for great things from her.
"I expect her to continue doing what she has been doing," he stated. "It's amazing how someone from this little rock can be so impactful. She's a walking double-double (points and rebounds), so I expect as she gets back into shape, she will have another great season. And when she's done, she can get another contract to go back to China."
Looking back at the tournament, Henfield said it was amazing.
"It was the first and with the first, you never know what to expect," he summed up. "I think the response was overwhelming. We did a great job of executing the tournament.
"Behind the scene, there is still a lot more for us to improve on. But what is special about it is we have an opportunity to provide a space where the women can call their own. Hopefully one day, we will have some Bahamians who will end up playing for the college teams coming in or even to end up on the sidelines as a coach."
Hinsey was just as delighted to be a part of the initial to honor Rolle.
"We are grateful we had the opportunity to honor the achievements of Waltiea. I believe the Bahamas has a tremendous opportunity to see other females achieve the same amount of success as she has, and by giving her a platform to highlight her achievements and to give other young girls an opportunity to see her in person is something we hope will encourage the future generation of female basketball players the country produces," he stressed.
As for the tournament, Hinsey couldn't ask for as better platform that was created.
"The Bahamas Hoopfest surpassed all of our expectations," he declared. "With this being our first year and it also being the first time women's basketball on this scale has been highlighted in Nassau, we really didn't know what the response would be.
"But we are beyond pleased with how everything came together, and it couldn't have been done without many organizations working together to accomplish our goals in year one." Moving forward, Hinsey said the goal is to continue improving to the point where they have eight teams committing to coming here for year two in 2020 and to have a Bahamian performing on one of the teams.
"Ultimately if just one young girl is inspired to work hard enough in the classroom and on the floor to have a chance to play collegiately, we've accomplished what we set out to do," he proclaimed.
Bahamas Hoopfest is hosted by the Springdale-based non-profit, International Youth Education & Sports (iYES) Foundation. It featured five NCAA Division-I women's basketball teams - Arkansas, Ball State (Ind.), Fordham (N.Y.), Lehigh (Pa.) and Wisconsin-Madison.
Rolle was a third-round pick (36th overall) by the Minnesota Lynx in the 2013 WNBA Draft and appeared in all three pre-season games with the team, averaging 7.0 points, 4.3 rebounds and 1.0 steals per game.
In six games with the Storm in 2014, Rolle averaged 3.2 points and 2.8 rebounds per game.
Late in the season, Seattle re-signed Rolle for what was expected to be her second season with the franchise. She signed a series of seven-day contracts late in August 2014. They signed Rolle for the remainder of the 2014 season after she completed three 10-day contracts with the club.
The WNBA journey for Rolle ended with the Seattle Storm.