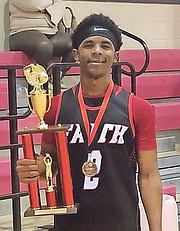 By BRENT STUBBS
Senior Sports Reporter
bstubbs@tribunemedia.net
THEO Knowles is one of the latest Bahamians who have left the Bahamas and is making his presence felt as he continues his basketball career in high school in the United States.
Knowles left Temple Christian Suns in grade 11 for Houston, Texas in August to complete his senior year at Faith Christian Academy Saints. He played in the Pasadena Basketball Tournament - his first tournament - where they lost in the consolation by eight points.
During that final game for the Saints over the weekend, Knowles led the Saints with 29 points and was named to the All-Tournament team.
"The transition was really different, but I gelled with the new environment and I fitted in very well," said Knowles, a 17-year-old 5-foot, 9-inch guard. "I'm really enjoying it."
The son of Charlene and Harvey Knowles Sr said he decided to go to Faith Christian Academy because it was highly recommended by the local coaches he was in contact within the Bahamas.
While they lost in tournament play, the Saints are off to a 8-2 win-loss record in the Texas Association of Athletic Christian Schools league regular season play.
Last season the Saints fell short of getting into the state championship.
Hopefully, they can achieve that goal this season.
"The season is going smoothly. As a new member of the team from another country, I felt our chemistry is really nice," Knowles pointed out. "The team is a pretty decent one. We don't have that many players but we work together to always come out on top."
Saints' head coach Phillip Delarosa said Knowles has been a welcome addition to their team, averaging 18 to 24 points per game.
"He's adjusting, but it's a different kind of play when you are running formations," Delarosa said. "He's a very strong individual. We're working on the team concept and he's fitting right in."
The Saints will be back on the court on Monday but will be without Knowles, who will be returning home on Friday for the Christmas break.
Delarosa said they will miss him, but they are capable of performing without him.
"We have about seven more games left and another tournament to play in before we start the playoffs, so we will see how far we can go in the new year," he said.
"We're expecting to be in the playoffs.We're expecting to be in the state championship. Our programme has done that without Theo, so we expect to do it either way. But he's a very good player and we know he can help us achieve our goal," added Delarosa.
"He's a great individual ball player. It's just a matter of him adjusting to the team concept that we run here. He's very strong, very quick, very fast. He's a very good player. We're glad to have him on our programme."
Delarosa said since Knowles joined their team, Faith Christian Academy was trying to get at least two to three more Bahamians to join him, but for some reason or the other, they have been denied their American visa access.
While he was unable to get more players, Delarosa said they are just excited that Knowles has been able to come in and be a part of their programme this year.