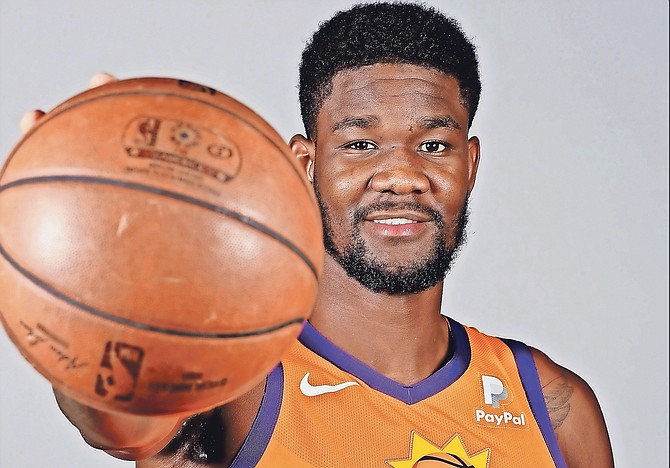 By RENALDO DORSETT
Tribune Sports Reporter
rdorsett@tribunemedia.net
Deandre Ayton is set to return to the court in five days and the Phoenix Suns are eager to have the former No.1 overall pick back in the lineup.
Ayton will complete his 25-game suspension following the Suns' December 16 contest against the Portland Trail Blazers and is eligible to return December 17 on the road against the Los Angeles Clippers.
Suns head coach Monty Williams said the team plans to bring the No.1 pick along slowly as he gets reacclimated to game speed and situations.
During his suspension, Ayton is allowed to practice, be around the team and work out at team facilities, but is required to leave the arena within two hours to tipoff. "You don't want a guy thinking too much the whole time on the floor. When you first get back you spend a lot of time thinking because everybody else is so far ahead when it comes to corporate knowledge.
"Even though we script plays and go through stuff when he's with us, playing in the game is a whole different animal so I think it'll take him a minute to naturally pick up the concepts," Williams said.
"His athleticism and talent are at such a high level it should shorten the gap a little bit but I don't want to put too much pressure on him when he comes back.
"He's already excited. Everytime I see him after a game he tells me the number of games he has left which is really cool because he wants to get back on the court to help his team."
The Suns have hovered near a .500 record this season and headed into last night's contest against the Minnesota Timberwolves with a mark of 11-12.
Williams said the staff has been in the final stages of preparing Ayton to play, but added that they remain patient with his process.
"We're just ramping him up, more running on the floor, try to do everything we can to simulate the game. So this past week he has done a ton of cardio that's been different than weeks before. He'll play more this week, he'll script more with the team. You do everything you can but it's still not the game," he said.
"I think he's going to have a few games where he is going to look brilliant and times where you may go 'what was that' but that's the time gap we are going to have to give him to get back to where he was."
The second year Suns centre was suspended without pay on October 24 for 25 games for violating the terms of the NBA/National Basketball Players Association Anti-Drug Programme by testing positive for a diuretic.
Ayton had an impressive season debut on October 23 - his lone game of the season - when he finished with 18 points (9-14 FG), 11 rebounds, four blocks and a steal in 33 minutes in a 124-95 win over the Sacramento Kings.
According to ESPN's Adrian Wojnarowski, The NPBA planned to file arbitration papers on Ayton's behalf seeking the suspension to be reduced or completely rescinded due to "a collective bargaining agreement provision of 'unintentional ingestion.'"
Ayton, who reportedly lost $2.17 million over the course of the 25-game penalty, immediately issued a statement following the announcement by the NBA.
"I want to apologise to my family, the entire Suns organisation, my teammates, partners, our fans and the Phoenix community. This was an unintentional mistake and unfortunately I put something in my body that I was completely unaware of," he said.
"I do understand the unfortunate impact that this has on so many others, and for that I am deeply sorry. I'm extremely disappointed that I've let my team down. I will continue to work with the NBPA to go through arbitration and am hopeful of a positive resolution."