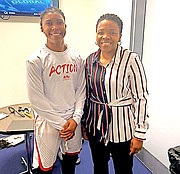 By RENALDO DORSETT
Tribune Sports Reporter
rdorsett@tribunemedia.net
YOLETT McPhee-McCuin has led her Ole Miss Rebels women's basketball programme above .500 powered by another outstanding game from Valerie Nesbitt.
Nesbitt finished with a team high 16 points and six assists - both team highs - in the Rebels' 69-66 overtime win over the Georgia Southern Eagles yesterday at the Pavilion in Oxford, Mississippi.
The Rebels improved to 6-5 on the season and ended a three-game losing streak.
Nesbitt shot 50 per cent from the field (7-14) and also added five rebounds and two steals before she fouled out after 32 minutes.
"Val really wants to win. Val is a competitor," McPhee-McCuin said. "We're teaching her how to be competitive about the right things. Through the course of it, you're just seeing her evolve into the type of player that she could potentially be.
"The last game, she had eight turnovers because she was really trying to win it for everybody.
"I told her that her intent was good, but what she did didn't work for us. So now, she has six assists, one turnover, because she realises that she doesn't have to do it herself and that she needs the team."
Nesbitt split a pair at the line to give the Rebels a 60-58 lead with just under a minute left to play in regulation. The Eagles would force overtime with their layup with 25 seconds left to play. Nesbitt scored on the opening possession of overtime and the Rebels went on a 6-0 run to put the game away.
Ole Miss shot just 37 per cent in the first half but still managed a 30-26 lead at the half. They shot 50 per cent in the second half, but went on a scoring drought for nearly seven minutes in the third quarter.
"I'm glad we found out a way to get a victory. This is a tough time to coach, with it being the holiday season and with the young group that we have. I thought that we handled adversity well. Right now for me, with this group, it's about finding wins, and we had a couple today," McPhee-McCuin said.
"I thought that we responded in the right way. There was never a moment for me where I felt like we wouldn't win this game. It was just a peace that I felt as we competed for 45 minutes."
Nesbitt scored 11 of her 16 points in the second half and overtime. In her last five games, she has averaged 14.8 points overall and 9.6 points in the second half alone,
It was the 17th Kids Day in the Ole Miss programme. It is a day when elementary and middle school students throughout Mississippi have an opportunity to watch an early afternoon game live. Tipoff was at 12pm central standard time.
A crowd of just over 6,500 was on hand - comprised mostly of students.
"(Kids Day) is just the best day ever," McPhee-McCuin said. "I told our players that they have a responsibility to be a positive example and play the game the right way for these kids. And not only just the girls, boys too. I just think sports has a way of teaching respect, no matter your race or gender, so it was pretty cool to see them come out and cheer."