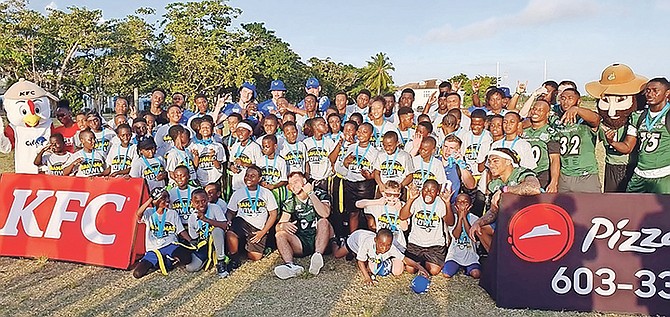 By RENALDO DORSETT
Tribune Sports Reporter
rdorsett@tribunemedia.net
BOWL week events continued for the 2019 Makers Wanted Bahamas Bowl as the organisers extended their community outreach and interaction between visiting players and locals.
Student athletes from both the Charlotte 49ers and Buffalo Bulls participated in a community-building exercise with aspiring football players yesterday when they hosted a Youth Football Leadership Clinic, in conjunction with USA Football, at the fields opposite the original Thomas A Robinson Stadium.
At the youth clinic, dozens of students from kindergarten to high school players took part in various drills by the USA Football staff and players.
Steve Specht, head varsity football coach at St Xavier High School in Cincinnati, led the teaching staff for USA Football. "This was fantastic. I don't know who had more fun - the players from Charlotte and Buffalo or the kids who ran through the camp, this is just exciting for USA Football to able to come down to the Bahamas and to be able to spread the game we all love so very much," Specht said. "I think every single one of these players had a coach that impacted their lives in ways we could never imagine now they're giving back and they are impacting these young kids lives, to watch this happen I think is what makes our game so great."
Players from both schools and USA Football staff demonstrated basic drills throughout the afternoon covering passing, catching, blocking and tackling. It proved to be a rewarding experience, not just for the participants but for the student athletes themselves.
"I wish I could take some of these kids north, I want them to play for me. The excitement of the kids running around and the excitement they showed and how much fun they are having I want to see more of this in the states.
"There are athletes, we only had them for a two-hour period but there are some really good athletes here that if they wanted to play this game at a higher level, if they wanted to play in the Bahamas Bowl one day, a lot of these kids will have that opportunity," he said. "Everything we did was a competition. We went through warmup drills then we broke them down into stations - passing and receiving, open field tackling and running, running back ladder drills, then four cone drills to work on agility. Everything they did they competed and at USA Football we want to drive football through competition."
Specht's St Xavier team finished 9-3 this season, and the Bombers reached the regional semi-finals of the Ohio state playoffs. He has been the Bombers' head coach since 2004 winning three Ohio state titles, and Specht coached NFL All-Pro linebacker Luke Kuechly during his time at St X.
"It's so cool. This is an opportunity of a lifetime and I wouldn't want to spend it any other way. Being able to give back to the community, kids who love playing football - a game that I'm so passionate about - it's just amazing. Being in a different country, being able to give back to these kids is a blessing," said Charlotte linebacker Jeff Gemmell.
"It was a blast, when we left the Atlantis we didn't know what to expect and we came out and saw all the kids and everyone got excited. There are some kids that can play here and it's encouraging to see the game of football continued to be spread out across the world like this."
Each registered participant received a 2019 Makers Wanted Bahamas Bowl t-shirt and tickets to the game set for 2pm on Friday, December 20.
"It's surreal. It's honestly a great feeling. You don't think that you would be in the Bahamas, and you definitely don't think that you would be in the Bahamas giving back to the community and it feels good to do that.
"The kids had a blast, laughing and competing and giving their best effort. It puts a smile on my face because I was once in their shoes. I was someone that wanted to have fun on the football field so for us to be able to do that it was a blessing," said Bulls defensive end Max Michel.
"There's a lot of talent, these guys are fast. I was working the cone drills, the box drills working on their shuffling, change of direction and stuff like that and it was impressive. I wasn't as fast as a lot of them when I was their age."
An active Bowl week schedule began with team arrivals and a welcome reception for their respective contingents on Monday.
On Tuesday, the players and staff had an opportunity to see the Thomas A Robinson Stadium and were treated to a Beach Bash at the Atlantis resort.
Today will feature media day and the final walkthroughs before Friday's kickoff.
The game will be televised on ESPN and broadcast on the Makers Wanted Bahamas Bowl Radio Network as both teams vie for the Prime Minister's Trophy.