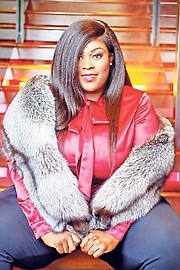 BAHAMIAN Jazz Singer Akia Knowles recently released her new music video "Jingle Bells" from her 2017 Christmas EP Release "Akia's Christmas at The Langham".
Akia currently resides in Shanghai, China as the resident singer at The Langham Hotel Shanghai, where the music video was shot and produced by Media Agency Grand Eagle Motion. Her current EP was produced by Frederick "Freddy Got-stykez" Seymour and is available on all digital music platforms.
"I never really wanted to be famous," she said in a previous interview with The Tribune. "In fact, in 2010, I had a record deal while in the US, but I got out of it because I wanted my soul to stay in tact. As soon as I was signed, they wanted to change everything - from my look, to musical style, to basically doing things that weren't me. After this experience, I honestly wanted to give up music and the music industry. When the opportunity for China was presented – initially it was for four months and I decided that I would do it. I became the resident musician for a British Hotel brand called 'The Langham Hotel'."
Five years later, she is still with the brand.
Akia is a graduate of The College of The Bahamas where she achieved a Bachelor's Degree in Music Arts. She was also an educator for over 10 years in The Bahamas and the USA.
She released her first album in 2007 "Intimacy with Him" and later released a single "Broken Hearted" featuring Bahamian artist and producer Sketch Carey in 2015.
She also released an EP in collaboration with the Langham Hotel Shanghai entitled "Dukes".
"Music has opened doors and opportunities for me that many could only dream of," she said. "At three or five years old, my mom started giving me piano lessons. Even as a rebellious teenager, I quit at age thirteen and began focusing on other pursuits, but at sixteen, I came back to it and the rest is history."