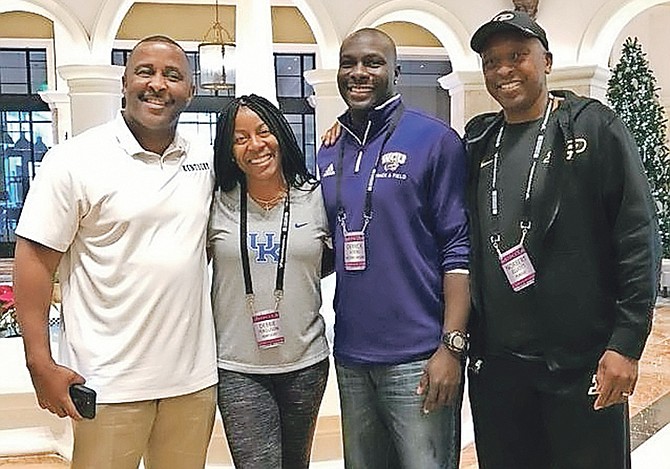 By BRENT STUBBS
Senior Sports Reporter
bstubbs@tribunemedia.net
By virtue of securing the bronze medal at the FIBA Under-27 Centro Basket Championships in San Juan, Puerto Rico, Grand Bahamian Quintin "Three Ounce" Hall was selected as The Tribune's Coach of the Year.
The Bahamas earned the third place with an 85-83 victory over the Dominican Republic on Sunday, July 28 at the Coliseo Roberto Clemente Arena and in the process, qualified for the first time for the FIBA Americas Under-18 Championships in 2020.
"It's very beautiful when everything comes together," Hall said. "When something like this happens, it isn't possible without all the work, all the commitment of a lot of coaches that I've been around and have been a part of this process. I don't want to leave them out, because this has been a struggle."
This year's candidates' list of honourees included Bahamas water polo head coach Laszlo Borbely, swim coach Travano McPhee, track coaches Ronald Cartwright and James Rolle and tennis coach Marvin Rolle, who all excelled on the international scene with the national team.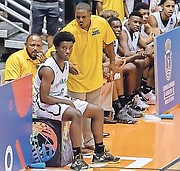 Internationally, recognition must also be given to collegian track coaches Rolando 'Lonnie' Greene, Norbert Elliott, Debbie Ferguson-McKenzie, Derrick Atkins and Chris 'Fireman' Brown, volleyball coach Edric Poitier and basketball coach Yolett McPhee-McCunn, who are all making headlines at their respective universities with a few Bahamian athletes on their rosters.
Hall, a former point guard for the men's national basketball team, credited a lot of the team's success to his coaching staff that included Kevin Clarke, Mark Hanna and Denykco Bowles.
The team was led by 17-year-old Deyton Albury, who averaged 19.4 points, 4.0 assists and 3.4 steals per game, along with Malik Joseph with 11.4 rebounds per game.
As a result of the international prominence, Hall beat out a couple of basketball coaches who made their presence felt on the local scene.
Heading the list was Bowles, who guided his Doris Johnson Mystic Marlins' senior boys team to both the Government Secondary Schools Sports Association and the coveted Hugh Campbell Basketball Classic titles.
And the father-son tandem of Perry Thompson Sr and Jr combined their expertise to take the Commonwealth Bank Giants through a perfect season in winning both the New Providence Basketball Association and the Bahamas Basketball Federation men's championship crowns.
Job well done!