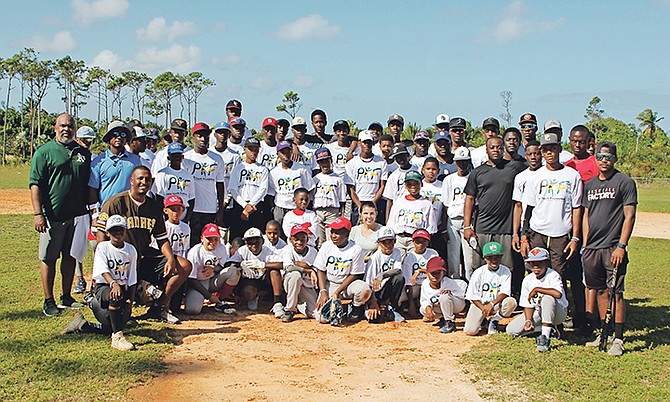 By RENALDO DORSETT
Tribune Sports Reporter
rdorsett@tribunemedia.net
INTERNATIONAL Elite Sports Academy partnered with the Pro Youth Foundation to host a free clinic over the holidays to help young baseball players remain sharp during the winter break.
The groups hosted dozens of players at the Pinewood Baseball Park for a day of tutoring in the fundamentals of hitting, fielding and throwing in addition to position specific skills training.
The clinic was facilitated by I-Elite staff of coaches (Geron Sands, Stephen Curtis, Pedro Dean, Courtney Smith, Richard Bain) and the visiting Pro Youth foundation team of Major League Baseball scouts Edwin "Chip" Lawrence (San Diego Padres), Tim Holt (San Diego Padres) and Mark Adair (Oakland Athletics). Several I-Elite products who recently signed minor league deals were also on hand to assist clinic participants - Ian Lewis (Miami Marlins), Dax Stubbs (Baltimore Orioles) and Everette Cooper (Houston Astros). Lawrence, a National Crosschecker in the Padres front office, himself a former professional player and scout for over two decades, founded the organisation as a means of community outreach.
"The Pro Youth Foundation is something I started a few years ago to help develop the game of baseball in our communities. The 'pro' stands for providing resources and opportunity.
"As you guys know baseball pretty much everywhere is becoming more expensive to play unfortunately. So what we've decided to do is start a foundation to hold events throughout the year at a low or no cost for the kids," he said.
"Our biggest event throughout the year now is our Historically Black Colleges and Universities showcase, we hold that twice a year now, one in Atlanta and one in Kansas City and that hosts about 25-30 schools now and kids from all over America come to it to showcase their abilities at an affordable cost. Our second biggest event is probably our toy drive camp which we do in Florida every year right before Christmas and donate the toys to the community."
While the day's clinic was focused on skill development on the field, Lawrence stressed his group's focus on education in conjunction with baseball.
"We just try to give the kids some guidance so at all of our events we stress the importance of education. Without education it's hard to go far in this game. Some guys from the Bahamas are able to sign as young as 16, in the states we can't do that, you have to finish high school and go to college but without education you're not able to play at that next level.When you focus on your education, go to school and get good grades, it gives you an opportunity to play at that next level and increases your options when it's time to pick schools. The first thing the coaches ask us when we're out scouting players is 'what are his grades like,' so if you don't have the grades or the test scores, it limits what you can do at that next level," Lawrence said, "Everybody is not going to be fortunate enough to get signed at 16 or to go on and play pro baseball, but if you have a passion for this game there are many different avenues you can go to contribute at the big league level. I'm a scout, there are jobs in marketing, advertising, finance, there are all kinds of jobs throughout baseball. So if you have a passion for the game continue to work on your craft, keep your grades up and you can continue to contribute at the big league level."
According to its website, the P.R.O Youth Foundation "was created to Provide Resources and Opportunities to todays youth which in turn will promote the leadership and decision making skills essential for future success. The Foundation aims to serve underserved student athletes with guidance, mentorship and development both on the playing field and off."
Holt used himself as an example of a former player whose path led to a career off the field through education.
"I wasn't fortunate enough to play baseball professionally but I'm an example of someone who take that other route and I've been scouting for 25 years now," he said, "I was on the amatuer side so I see the minor league players once they signed and play for the different organisations so there is a way fir you to stay engaged in the game but developing education along with your baseball skills are equally important.
Mark Adair, spent nearly two decades with the Chicago Cubs, and Houston Astros and is currently a National Crosschecker with the Athletics.
"For me the most impressive thing is that so many people showed up so early in the morning. It shows that guys here have that drive to want to get better in the game. I played in high school, played at the University of Missouri, then used my education to get where I am now. The field is not the only way to make it in this sport and we just want to continue to spread that message across the United States and now in the Bahamas." I-Elite continues its effort to develop young baseball players and recently adapted data analytics to equalise the playing field for its players in their recruitment process. The organisation will now utilise Flightscope Strike technology in partnership with DS Sports Ventures and Baseball Cloud to accurately track and build portfolios of the country's expanding list of baseball prospects.
Last May, James Rolle was the latest Bahamian to reach an agreement with a Major League Baseball franchise through I-Elite when he signed with the Baltimore Orioles.
While the group has consistently guided their I-Elite athletes to minor league contracts in recent years, they came to see the need for athletes to have the opportunity to also be able to attend the college or universities of their choice. I-Recruit has reportedly partnered with several institutions in the United States and has a network of over 1,300 colleges and universities.