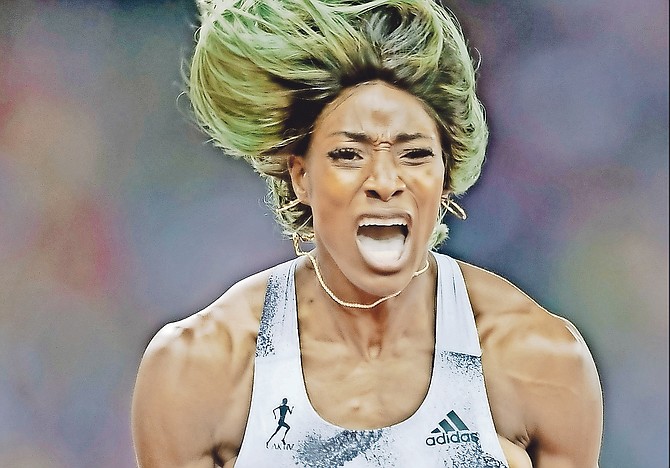 1. SHAUNAE MILLER-UIBO
A season highlighted by a World Championship silver medal, a pair of national records, a rarely contested world record and a litany of awards earned Miller-Uibo the award for another year.
Miller-Uibo won silver in the 400m at the IAAF World Championships in Doha, Qatar in October. Her time of 48.37 seconds set a new North American, Central American and Caribbean (NACAC) area and Bahamian national record. It was also the sixth fastest time in history.
In August, she completed the hat trick, winning her third consecutive IAAF Diamond League women's 200 metre final in grand style. At the Weltklasse Zurich in Zurich, Switzerland, Miller-Uibo clocked a personal best of 21.74 to shatter the Diamond League record of 21.77 that was set by American Tori Bowie in 2017.
In the process, she lowered her Bahamian national record of 21.88 that she set in winning the 2018 title.
Miller-Uibo also raced to a world record-breaking performance in the rarely contested women's 300 metres at the 58th edition of the Golden Spike Ostrava in June.
She accelerated down the final straightaway to take the tape at the finish line in 34.41 to smash the previous world's best of 35.30 set by Ana Guevara at altitude in Mexico City in 2003.
"This year was one of the best years I've ever had in my career, I think the best so far," she said this offseason as she reflected on her accomplishments. "Being able to PR and get a national record in the 200m and 400m. I think I was ranked 11th overall in the 200m and sixth overall in the 400m and so it's a big blessing."
The postseason awards were many for Miller-Uibo as she was officially invested with her National Honour - the Order of Lignum Vitae. She was one of 21 Bahamians who received 2019 National Honours and were invested for excellence in national service by Governor General Cornelius A Smith at the National Honours Investiture Ceremony on National Heroes Day.
She was also the co-winner of the Prime Minister's Award for "Athlete of the Year" at the Ministry of Youth Sports and Culture's National Sports Awards.
On the philanthropic side, Miller-Uibo pledged $25,000 to assist the rebuilding of churches in Abaco and Grand Bahama to aide the Hurricane Dorian recovery effort.
She also partnered with the Bahamas Coaches Association to host her annual Bay Street Mile in November which once again attracted a large number of competitors from the U10 to Open divisions.
2.JONQUEL JONES
Jonquel Jones and the Connecticut Sun fell one game short in their historic run toward a WNBA Championship last month, but the fourth year forward has established herself as one of the premier players in the league with her standout season.
Jones averaged 19.2 points and 11 rebounds per game in the series and posted doubles doubles in both wins for the Sun, but ultimately lost in the fifth and deciding game on the road to the Washington Mystics.
It was a season of accolades for the Sun star and Grand Bahama native.
Jones led the league in rebounds with 9.7 boards and blocked shots at a career high 2.0 per game. She also finished fourth in defensive rebounds with 6.4 per game.
This season, Jones grabbed 10 or more rebounds 16 times, including a season high 22 rebounds on May 31. She finished the regular season with starts in all 34 appearances averaged 14.6 points and posted career highs in steals (1.5 per game) and minutes played (28.8 per game). She also won her second rebounding title in four seasons. Jones was named to the All-WNBA Second Team, the WNBA All-Defensive Team for the first time, finished third in Defensive Player of the Year voting, was a WNBA All-Star and was named Eastern Conference Player of the Week four times.
At the national team level, Jones continues to be a major asset to the Bosnia and Herzegovina women's national basketball team and led the side to their second consecutive win in the current window of FIBA EuroBasket 2021 qualification. She recorded 26 points and 16 rebounds in Bosnia's 80-61 win over Switzerland. Bosnia moved to the top of Group C in this window behind Jones' 27.5 points and 17.5 rebounds per game. Jones finished with 29 points and 16 rebounds to lead Bosnia and Herzegovina to a 70-69 win over Russia in the first round of qualification.
At the club level, Jones is a member of Russian Premier League powerhouse UMMC Ekaterinburg this offseason as the team looks to repeat as EuroLeague champions.
3.TYNIA GAITHER
Gaither achieved national acclaim when she clinched the Bahamas' first medal at the XVIII Pan American Games - bronze in the 200m in a time of 22.76 secs at the National Stadium in Lima, Peru.
At the World Championships in Doha, Gaither finished eighth in the 200m
final in 22.90 secs. In the 100m, she finished fifth in her semi final heat in 11.20 secs, 13th overall.
Gaither also finished as runner-up in the 100m at the Bahamas Association
of Athletic Associations' National Open Championship in Grand Bahama.
4. LAURA MORLEY
Morley produced her best swims late in the year at this month's 2019 Toyota US Open in Atlanta, Georgia.
In the 200 Breaststroke, Morley set a new Bahamian national record
and got a FINA Olympic B Cut in a time of 2:27.83 secs in the prelims. She finished 6th overall in the A final with a time of 2:28.38 secs.
Morley also competed in the 200 IM (79th overall in 2:20.17 secs), 100 Breaststroke (23rd overall in 1:11.20. secs)
At the Pan Am Games in Peru, Morley captured B final title in the 200m
Individual Medley. Her time was 2:18.54 as she produced splits of 30.43 in the first 50m butterfly; 36.38 in the 50m backstroke for 1:06.81 for the 100m mark; 38.62 in the 50m breaststroke for 1:45.43 for 150 and 38.62 in the final 50m freestyle.
That time would have tied her for eighth place in the A final. Morley just missed making the A final with her second place in her heat for ninth place overall in the preliminaries.
At the collegiate level, the Indiana Hoosiers senior was an Honorable Mention All-America, Big Ten Distinguished Scholar, Academic All-Big Ten, Big Ten Sportsmanship Award Honoree and placed 14th in the 200 Breaststroke at the NCAA Championships with a time of 2:09.00, earning Honorable-Mention All-America honors.
5. VALERIE NESBITT
Nesbitt made a seamless transition to NCAA Division I basketball for the Ole Miss Rebels. The junior point guard currently leads the Southeastern Conference in steals at 3.2 takeaways per game. She has had six games this season with at least four. She has started 10 of 12 games and averaged 11.5 points, 3.6 rebounds and 3.4 assists per game. The Rebels are 7-6 on the season.