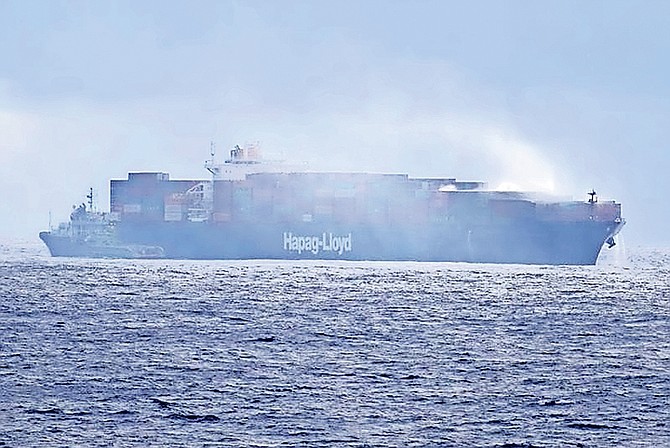 By DENISE MAYCOCK
Tribune Freeport Reporter
dmaycock@tribunemedia.net
THE mega-freighter that was burning off Canada's east coast since January 3 is now docked off port in waters off Grand Bahama, awaiting clearance from the relevant marine authorities at the Port Department and the Grand Bahama Harbour Company.
The mv Yantian Express, a 320-metre container vessel operated by German shipping company Hapag-Lloyd, was originally scheduled to arrive in Halifax, Canada, but bad weather conditions forced the ship to be re-routed to the Freeport Container Port in Grand Bahama.
The Tribune has learned that the vessel and its crew had been docked in seas off the island since last week.
According to earlier reports, a blaze that had started on board the ship was brought under control by tug vessels, equipped with water cannons, while off Canada's east coast.
Freeport Ship Services, which is also expected to be appointed the agent, is still awaiting information as to whether the ship will be brought to port.
When asked about information pertaining to the damage or how many crew members are on board at this time, Maurice Hall, operations manager at Freeport Ship Services said: "I have no idea; I don't know anything until they decide what they are going to do with it; whether they are going to bring it in or not. I don't even know that."
He said that he has been aware that the vessel is out to sea off port.
Mr Hall said that he does not know how long the ship will be here or if repairs will be done here until the ship is permitted in port and is cleared by the Department of Customs.
"It arrived sometime last week, crew members are still on board. Our part does not kick in until the vessel comes in. We really don't have any information until that happens.
"Everything is at a standstill. We are waiting on the Port Department and marine authorities. So basically, yes, we are appointed the agents for whenever it gets into port," he said.