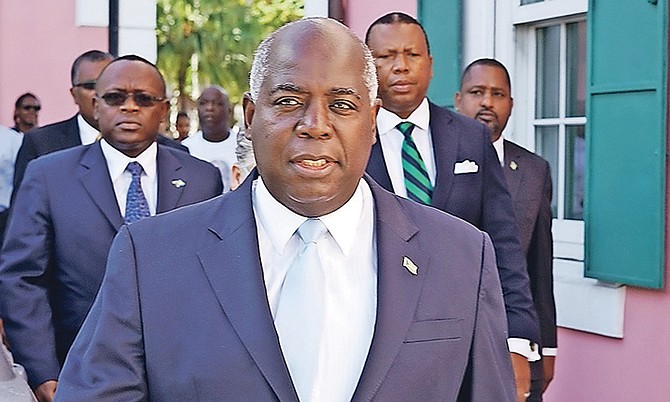 By RASHAD ROLLE
Tribune Staff Reporter
rrolle@tribunemedia.net
THE Progressive Liberal Party will call for the resignation of ministers involved in the bribery case of Frank Smith, the former chairman of the Public Hospital Authority who was freed of the charges Friday afternoon, according to Opposition Leader Philip "Brave" Davis.
Chief Magistrate Joyann Ferguson-Pratt threw out the charges against Smith on Friday after finding there was not a sufficient case to answer.
PLP supporters were jubilant after the ruling. It came nearly six months after Mr Smith took the humiliating walk in handcuffs toward the Nassau Street courts to face 15 charges, including 13 counts of extortion, one count of attempted extortion and one count of bribery.
For weeks observers were treated to bizarre headlines concerning the testimony and conduct of Barbara Hanna, the virtual complainant in the matter.
Chief Magistrate Ferguson-Pratt said she was not a credible witness, highlighting discrepancies and inconsistencies in her testimony.
She said the testimony of the prosecution's witnesses did not match. She also questioned whether the case was politically motivated. In particular, she criticized National Security Minister Marvin Dames and Health Minister Dr Duane Sands, both of whose involvement in the matter forced them to testify last year. Her comments are already being seized by the PLP which have been eager to turn the tables on the Free National Movement and its corruption narrative.
In the lead-up to the 2017 general election, Prime Minister Dr Hubert Minnis placed anti-corruption at the centre of his election platform. The charges against Mr Smith were seen as flowing from his commitments.
"I am pleased at today's decision," Mr Davis said in a statement. "I believed from the start that the case was ill conceived and that legal ethics dictated mid-trial that the prosecution should have withdrawn all charges and stopped the case."
"We were also concerned from the beginning that this case was brought on the basis of a predetermined script and contrary to generally accepted principles applicable to the institution of charges. We will be calling on the ministers involved to resign for the role they played in this travesty or otherwise the PM will be called upon to dismiss them from his cabinet. We believed it was an abuse of process to have brought it. This began with the slave shaming of Frank Smith which was designed to prejudice the trial."
"The abuse of process led me to write a letter to the prime minister in July 2017 decrying their conduct and seeking a meeting with him to discuss these matters. Alas, there was no meeting and no remedial action taken on the part of the government."
"Further, I am deeply concerned about and understandably afraid for the poor citizen who does not have the resources to meet the full weight of the state in these situations. I am committed more than ever to looking into the current state of our administration of justice. Thankfully, Mr Smith has had his day in court. He has succeeded in acquittal beyond a reasonable doubt. We trust that the government leaves the matter there and Mr Smith and his family can resume a normal life."
"I ask my fellow Bahamians to take note of how this matter was conducted and the extent to which ministers of the government were directly involved in its prosecution. This should cause us all to pause and consider who our leaders are and the true content of their characters."
On Facebook, Englerston MP Glenys Hanna Martin called for the "immediate resignation" of two ministers, adding: "And a general election (needs to be) called."