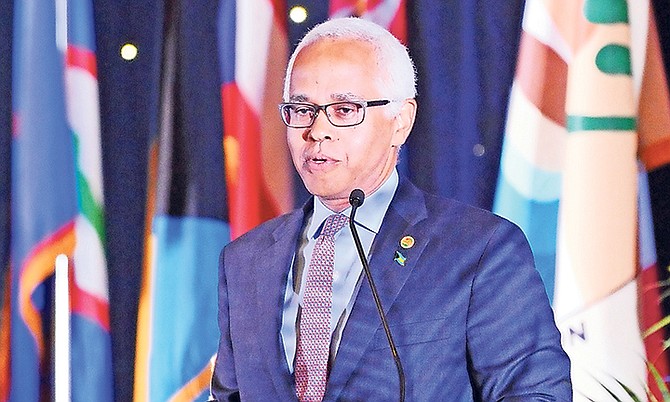 By NEIL HARTNELL
Tribune Business Editor
nhartnell@tribunemedia.net
A Cabinet minster last night said he was "not particularly bothered" by a widely-circulated video labelling The Bahamas' the world's most unsafe cruise destination because it was "patently untrue".
Dionisio D'Aguilar, minister of tourism, told Tribune Business his ministry had decided to respond to the video - which branded this nation as more unsafe than crime-ridden nations such as Venezuela and Guatemala - because it was "causing consternation among Bahamians".
He added that the video lacked credibility, and the ministry's New York-based public relations firm had confirmed it was "receiving very little play" internationally - resulting in his lack of concern.
Pointing out that cruise lines will never take passengers to unsafe destinations, Mr D'Aguilar said they brought some 3.6m visitors to Nassau annually, and the level of crime they experienced was "negligible, minimal".
He added that the video's ranking of The Bahamas as the most unsafe destination, based on alleged "pick pocketing, muggings and robberies", paled into insignificance when set against the armed robberies of cruise passengers in St Lucia and "armed gangs" in Mexico and Guatemala.
All were cited in the same video, and the Minister also dismissed speculation that it may be an attempt to exert further leverage over The Bahamas by the cruise lines.
"It's getting more traction here than elsewhere," Mr D'Aguilar told Tribune Business. "It's causing consternation among Bahamians because it's so patently untrue. We wanted to put something out to say we're aware of it, we don't agree with it, and it was put out by somebody who doesn't have any credibility.
"We thought we'd nip it in the bud. I'm not particularly bothered. I don't know if people are forwarding it for the sake of have you seen this, have you seen this. Our New York PR agency said it's getting very little play."
The Ministry of Tourism, in its statement, said: "While there is speculation that this video may be a leverage tactic, we have no evidence that this video was influenced by anyone other than its creator.
"The Ministry of Tourism maintains active dialogue with the cruise lines, as both parties look to navigate a mutually beneficial relationship. In this regard, it is important to both The Bahamas and to the cruise lines that our destination remains desirable."
It continued: "Private islands have been a feature of cruise itineraries for some years now and are not a replacement for Nassau. Our negotiations and work with cruise lines on myriad issues are part of an ongoing process to balance the needs and priorities of The Bahamas with theirs.
"We are very actively engaged in protecting the reputation of The Bahamas by aggressively telling our stories through our advertising, content and also through bringing reputable journalists to experience our hospitality. This work is a strong counter to incidents like this. We are close to deciding which plan for our next generation cruise port will move forward, and that will be a key product improvement that will add to the Nassau experience and our reputation.
"The assertions made that Nassau is the most dangerous destination is refuted emphatically. We take the issue of visitor safety very seriously. The continuing efforts of our police to combat crime and create a safer destination for our residents and our visitors is the most effective statement on behalf of our port, and the Ministry of Tourism applauds the progress made in this area."