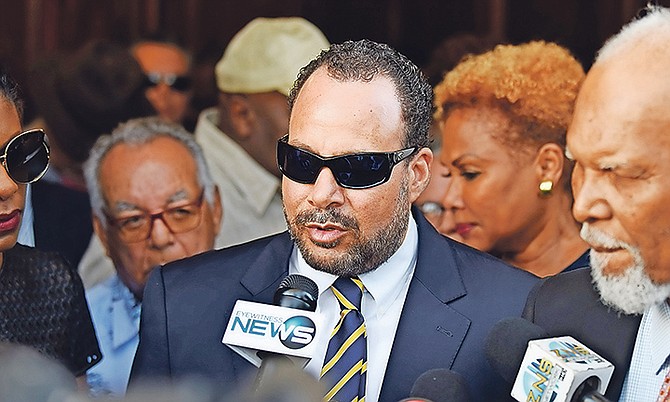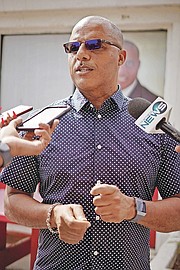 By AVA TURNQUEST
Tribune Chief Reporter
aturnquest@tribunemedia.net
NATIONAL Security Minister Marvin Dames yesterday defended his role in the bribery and extortion trial against former PLP Senator Frank Smith, telling The Tribune he did not play political games.
Mr Dames and Health Minister Dr Duane Sands are both facing calls from the opposition for their resignations, after the two were criticised by Chief Magistrate Joyann Ferguson-Pratt for the "egregious" way in which they interacted with chief prosecution witness in the case, Barbara Hanna.
The government has indicated it will appeal her ruling.
Dr Sands declined comment on the matter yesterday.
While making clear he did not wish to comment on the chief magistrate's ruling, Mr Dames took exception to opposition calls for his resignation.
He stressed Mr Smith's case - for his part - did not have any special political significance over the scores of other matters under his ministerial remit, and pledged to continue his mandate against corruption.
"As far as I was concerned," Mr Dames said, "I was called to give evidence, I gave to the best of my ability. I will not speak to that case, I don't want it to even be perceived that one case to me is more important than the others because it isn't.
"I don't investigate matters, at one time I did, but my job as minister is to ensure that we provide those who investigate and prosecute with tools to create policies that will allow it to happen."
On Friday, the chief magistrate acquitted and discharged Mr Smith of all 15 criminal charges after finding fault with numerous "inconsistencies" and "discrepancies" in the Crown's case, which she further said was "undermined" by its own witnesses.
Mr Dames continued: "I've never met Mrs Hanna. I don't know Mrs Hanna, never met her before she came to me. As I said before I referred her to the police, that was the extent of my interaction. So it's clear that now that a ruling has been made. The opposition wants to play politics with it, that's not my business, that's not my concern.
"I am a minister of national security," Mr Dames said, "and part of my remit is to ensure the people of this country are safe and we bring some level of resect back to the nation. The Bahamian people continue to say the level of corruption is way too high, I take that seriously. As long as I sit in this office, I will do whatever it takes within the framework of the law to ensure we address this problem of corruption in this country."
Mr Dames further criticised what he felt to be the Progressive Liberal Party's capitalisation on the recent ruling for political expediency, which he termed a "sad indictment".
When questioned by The Tribune whether the ruling presented a setback to the government's anti-corruption track, Mr Dames said: "The magistrate ruled, that's not for me to say. I gave my evidence and I gave as transparent as I possibly can and I've been doing it for decades. I'm not playing the game of the old politics and tricks that some politicians continue to play. It's not for me to do an assessment."
Mr Dames added: "A ruling has been made. We'll see what the next steps are, I'm not going to comment on a case because that's not how I look at it. We have a serious problem in this country with corruption and at the highest level. When it involves the young man (from the) Over-the-Hill community no one cares, but all of a sudden one case brings everybody out to say 'oh this is politically driven.'
"What we as leaders in this country should be doing is looking at how we can use our voices to make this country a better place, to make it a more respected country, to work together in unison to reduce the level of corruption and violence that persists at all levels. I don't see no one running to the rescue of the small man, what about him?"
Attorney General Carl Bethel confirmed the government intends to appeal the judge's decision to throw out bribery and extortion charges against Mr Smith.
Mr Bethel declined further comment on the matter, telling The Tribune the ruling would be canvassed in the context of the government's appeal as had been indicated by the Director of Public Prosecutions Garvin Gaskin.
However, the attorney general did address opposition calls for a review into his ethical conduct.
At a press conference on Sunday, PLP Leader Philip Davis insisted the matter should have been dropped long before it reached the "no-case submission" stage.
To this, Mr Bethel said: "As a senior lawyer and parliamentarian, (Mr Davis) he should be in the best position to remember that he himself participated in vote of Parliament which legislated the only person lawfully entitled to discontinue a criminal matter is the director of public prosecutions.
"(Mr Davis) He should not allow his wish to condemn ministers to cloud his legal judgement when making a public statement," Mr Bethel added, "it does not sit well with him."