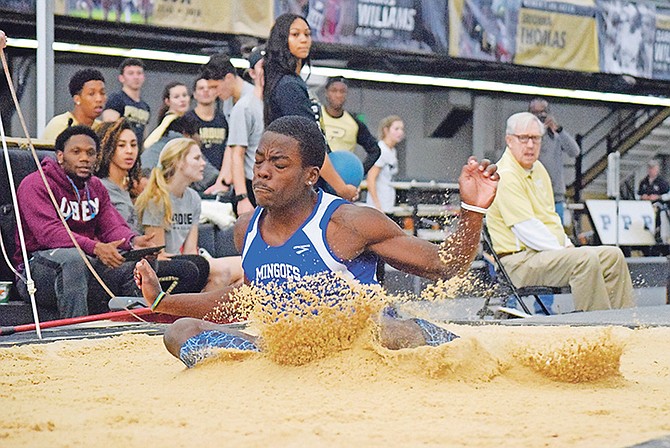 LAFAYETTE, Indiana – Heptathlon national record holder Ken Mullings improved the record by 387 points to 5426 points at the Fred Wilts Purdue Indoor Invitational over the weekend.
The previous record was 5059 points that he set in 2018 at the same meet.
"There was never a doubt for me that I would break the record," Mullings said in Lafayette. "I knew my off-season training was paying off and this was the proof of it for me."
Mullings won every event in the seven-event competition except the 60m dash and the pole vault. On day one, Mullings won the long jump with a best jump of 6.92m (22ft, 8.5in), the shot put with a best performance of 12.47m (40ft, 11in) and high jump after clearing 2.10m (6ft 10.75in). After day one, Mullings said he felt as if he was right on track to best his record.
"I could have picked up more points in the shot put but I felt right on track after day one," he said.
He placed second in the 60m dash in 7.13 seconds on day one.
On day two, he placed second in the pole vault competition clearing 4.25m (13ft 11.25in) but won the other two events. In the 60m hurdles he beat all of the competitors by more than half a second and was the only one to go under nine seconds with a 8.35 second performance.
In the final event — the 1000m — he pretty much knew the record was gone if he just stayed on pace. He won the event in
2:58.55 and was excited to have not only improved the record but also to have gone under the three-
minute mark.
"This still shows me that if I continue to train as hard as I did off season I should be able to progress way
better than last year by the time World Championships and the rest of the summer meets come
around," he said.