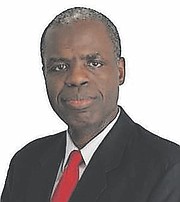 By NEIL HARTNELL
Tribune Business Editor
nhartnell@tribunemedia.net
The Central Bank is aiming to "crystallise" its strategy for a digital Bahamian dollar test project before year-end 2019, its governor revealed yesterday.
John Rolle, speaking at the regulator's first quarterly media briefing on economic and monetary developments, said it was "making good progress" on developing a digital currency and planned to identify communities where it could be trialled.
Confirming that further details on the proposed digital Bahamian dollar will likely be unveiled before the 2019 first quarter ends, Mr Rolle said its creation would help modernise the country's payment system and enhance its efficiency by reducing reliance on cash.
He added that it also stood to boost financial inclusion, especially for "far flung" communities in the Family Islands, in terms of giving them access to a full range of financial services and products despite the commercial bank pull-out from many such destinations.
Mr Rolle added that The Bahamas' first-ever credit bureau is set to begin operations in early 2021, which is when it will start producing its first reports on borrower creditworthiness for multiple lending institutions such as the commercial banks.
The preferred operator, Italian-headquartered CRIF SpA, is expected to have completed the licensing process "well before the end of 2019", according to the Central Bank governor, who added that it was currently liaising with the regulator to ensure it meets all requirements.
Mr Rolle said any short-term pain caused by Bahamian borrowers having to get their house in order before the credit bureau's arrival will be "outweighed" by improved lending decisions and credit allocation over the medium to long-term.
Besides keeping up with loan repayments, and ensuring they are made in full and on time, he also warned Bahamians to avoid taking on excessive debts that would raise a potential red flag for lenders due to concerns over their ability to meet due obligations should unforeseen situations strike.
The Central Bank governor said that apart from identifying risky or delinquent borrowers, the credit bureau would also help those with strong "track records" of meeting their obligations to obtain lower interest rates and better repayment terms. He even indicated that lenders may be willing to extend salary deductions beyond government employees.
Revealing the status of key Central Bank initiatives, Mr Rolle said of a digital Bahamian dollar: "We're making good progress, and expect at some point in the first quarter of this year to be making some public announcements on this project.
"It's still our intention, at some point in 2019, to crystallise our views on what a pilot project will look like. That will include identifying communities or a sub-set of communities we can use for the pilot."
The Central Bank, in an Expression of Interest (EOI) tender unveiled last August, which sought bids for the design and implementation of a digital currency, said it was targeting the launch of an electronic Bahamian dollar by 2021.
It added that it was aiming to roll-out a trial version "within 30 months", with the move central to its efforts to "accelerate" payments system modernisation and introduce technology-based financial services (fintech) to reduce Bahamians' reliance on cash and combat the loss of physical bank branches as institutions withdraw from the Family Islands.
Mr Rolle yesterday said these objectives were unchanged, explaining: "It should allow us to overcome a lot of the challenges from the high amount of cash used in the economy.
"To the extent of providing banking, financial services in more far-flung parts of the country, the business model has to account for the consideration of getting cash in and out. If we go electronic, it eliminates significantly the reliance on cash and the incentive for banks to remain there.
"To the extent persons are using electronic means to make and receive payments, and make deposits with respect to their financial institutions, a better functioning electronic system will put more consumers in reach of traditional banking services, they will still have access to their accounts, and use electronic infrastructure to make payments."
The Central Bank's EoI document from last summer suggested it was becoming "increasingly less feasible" for commercial banks to provide a physical presence in sparsely populated islands. The solution to "financial inclusion", it added, was through the provision of electronic and digital payment services, possibly using technology such as blockchain.
Mr Rolle, meanwhile, said the Central Bank expected The Bahamas' first credit bureau to be operational "in less than two years from the identification" of CRIF S.p.A as the operator, an event that occurred last month.
This implies that delinquent Bahamian borrowers, be they individuals, households or companies, now have until early 2021 to bring their obligations current before their access to fresh credit/loans is potentially blocked or, at a minimum, made much more expensive.
"We would expect the bureau operator to have gone through the licensing process well before the end of 2019," Mr Rolle said. "So right now they would be in communication with the Central Bank in terms of understanding what the required processes are around completing the licensing process.
"In order to get to this stage, they had to present a credible position that is able to satisfy those requirements. They're really just interfacing with the Central Bank to make sure they put in place what is required to get the operation established."
Before the credit bureau becomes operational, it must first collect information on Bahamas-based borrowers from all institutions mandated by the Credit Reporting Act to supply it with such details, such as the commercial banks. It must then process this data into a usable format that can be accessed by such institutions seeking information on loan applicants' histories.
"That will become a reality within less than two years from identifying the operator; two years from the point of reality," Mr Rolle said of the credit bureau's likely operational start date.
As for the adjustment its arrival will require of borrowers, both from a practical and cultural perspective, the Central Bank governor added: "We're not too concerned about how the system reacts upfront.
"What's more important is the framework allows for better decisions around credit. Long-term that is going to outweigh any adjustment in the short-term."
Besides meeting debt repayment obligations in full and on time, Mr Rolle advised Bahamian borrowers to ensure they have "a comfortable level of debt" that is manageable enough to prevent them defaulting if "unexpected events" strike.
He warned that financial institutions will be watching carefully to ensure there is such breathing room, adding that individuals should have "no more than two-thirds of their salary at the upper end going to payments on loans assuming there's a mortgage in that".
Acknowledging that many Bahamians were heavily indebted outside the commercial banking system to the likes pay day lenders and furniture stores, Mr Rolle said the credit bureau would positively impact good borrowers through lower interest rates and better repayment terms while also changing the behaviour of others.