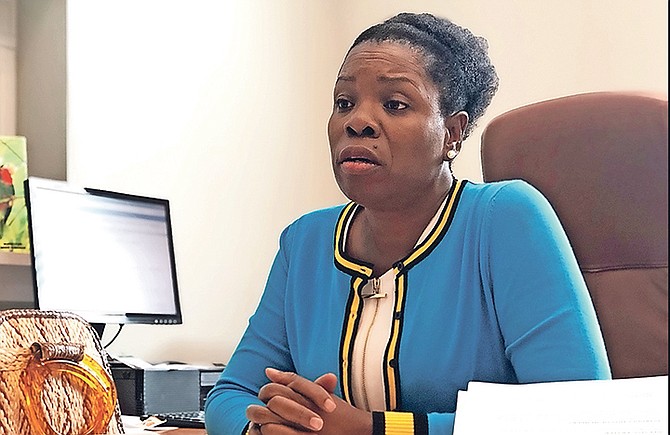 By RASHAD ROLLE
Tribune Staff Reporter
rrolle@tribunemedia.net
OFFICIALS in Abaco turned their attention yesterday to identifying bodies recovered from the weekend shipwreck that killed more than two dozen Haitian migrants even as one body escaped the grasp of Royal Bahamas Defence Force officers and was consumed by sharks instead.
A RBDF officer said officers tried to recover the body near Man-O-War Cay but it was taken away by sharks before they could retrieve it.
Because of this, the death toll from the tragedy remains unchanged as the organisation only records in the death toll the bodies that have been recovered, The Tribune was told. Last night, the RBDF and immigration officials said the official death toll stands at 27 and the survivors' count is 18, contrary to initial reports from law enforcement, which pegged the numbers at 28 and 17 respectively.
The number of survivors of the shipwreck increased by one yesterday as officials added a person who was airlifted to New Providence on Saturday, an immigration official said.
Tiger sharks began circling the shipwreck site and eating human remains within hours after the sloop struck a reef sometime between Friday night and early Saturday morning.
On the island, officials from the RBDF and the Department of Immigration told The Tribune they had been tipped off to an incoming vessel as early as last week Monday and began searching for it.
However, they said determining the veracity of tips is a challenge as people sometimes give deliberately false coordinates to throw off authorities.
Asked about this, RBDF Commodore Tellis Bethel said yesterday: "We don't have anything verified, intelligence of that nature but there is always talks about things happening around town. You have to try and decipher, and even that's a difficult task."
Maxine Duncombe, island administrator for Central Abaco, said officials are now working with the Haitian embassy to ensure the dead are given a dignified burial.
Initially, people expected the bodies would be buried en masse at a grave site on the island. While this has not been ruled out entirely, Bahamian officials are working with Haitian representatives to find an alternative, more dignified solution.
"We know that this is perhaps one of the worst tragedies, of monumental proportions we have suffered in Abaco," Ms Duncombe said. "We had a similar incident before, but I don't think we've had so many lives lost in one incident (in Abaco). Today we met the coroner, Mrs Jeanine Weech-Gomez and she had with her two pathologists and a photographer and we want to determine going forward the plans for the victims. The first thing is this, no bodies will be released until they have been properly identified or an autopsy done and that is why all of the relevant persons are here on the ground. Once they have been ID'd, everything will be done right here in Abaco.
"We are working closely with the Haitian embassy to reach out to the survivors and also to see if they had any loved ones on the ship. This is a sad situation, it's very difficult to contemplate that that many people died right here in Abaco. We're working with the embassy, local Haitian leaders on the ground to see if we can have them properly identified. The next thing would be that with the pathologist, we would make a facility available to upload some of the photos and see whether they would be able to identify some of their loved ones. If they are able to then that would put closure with respect to some cases because once they have been identified they would go through the proper procedure to be released. We will have a place set up for them with photographs to allow people in dignity to identify persons they may know or loved ones."
Ms Duncombe could not say if this is the typical process for such matters, but said it will be done moving forward. "If the embassy wishes to assume responsibility for the bodies there is a process involved there as well that would allow them to do so."
Officials were challenged with finding a place to keep the bodies when the island's morgue became full.
According to a RBDF officer, many of the bodies are now being kept in a freezer-container. Ms Duncombe credited Tropical Shipping for the arrangement. "Tropical Shipping really came through for the Department of Public Health," she said.
Director of Immigration Clarence Russell has expressed sadness over the tragedy, noting an investigation is underway and those found culpable for the deaths will face the law.