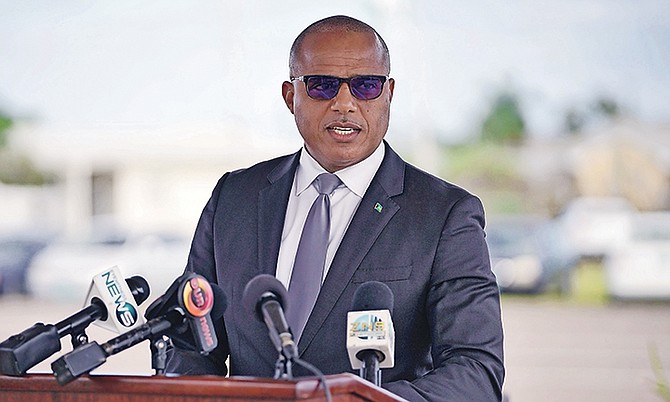 By RICARDO WELLS 
Tribune Staff Reporter
rwells@tribunemedia.net
AFTER three men were killed within less than 24 hours over the weekend, National Security Minister Marvin Dames said while police cannot stop every murder, law enforcement is on track to continue lowering murder statistics.
"If you compare the numbers today with yesterday, last year in January alone we had 12 homicides, we had three in January (this year) and I believe in February we had something like 10 (last year)," the Mount Moriah MP said.He continued: "And so, our law enforcement officers are very, very in tune with what is happening. We are not going to stop every murder… that is the reality, but we are well on track to ensure that we continue to pull those numbers down."
Mr Dames said law enforcement officials are working to ensure communities around the country remain safe, allowing residents to move about without any fear or concerns about becoming victims of crime.
"That is our objective and it is being executed through our law enforcement agencies and they are very much in touch."
Mr Dames also said police are near to completing their investigations into two of the three homicides that occurred over the weekend.
"As I have said before, as a government, we have taken this holistic approach that we are focusing on," he added.
"We are focusing on education, we are focusing on employment and the development of our youth and will continue to look at ways and continue to introduce measures that will assist us in improving the situation as it relates to crime in this country.
"And so I am confident that we are on track, and there will be days when you are faced with situations like this, but you have to find a way to get over it and they have been doing that. So in those incidents, they are essentially at a point where they know who may have been responsible, and so we just have to get those individuals off of the streets and continue our work of keeping our country safe."
He continued: "I have had crime reports some days already for this year where there has been nothing reported. I haven't seen that in a while. And so, it points to the fact that the police are beginning to reap results. But we are not going to resolve every homicide.
"We are not going to stop every homicide, unfortunately. And it is up to each and every one of us, especially parents. When you look at the profile of these persons who are engaging in these activities, they are kids.
". . .So we have to come to that place where we understand that it is all of our responsibility if we are going to keep our country safe." 
Last week, the government signed a contract with an American company to utilise ShotSpotter gunfire detection technology. The government also plans to roll out a drone programme to aid crime fighting and expand CCTV.
"I can tell you today, as far as ShotSpotter is concerned, the company is now working," Mr Dames said yesterday. "They now have persons in town working with the various stakeholders to begin the process of implementation.
"As far as the drones programmes is concerned . . .hopefully within the next few weeks we should know who that company is. That was a very, very involved process and I want to commend the team that was responsible for actually going through the elimination process.
"They did a tremendous job. You know, we end up with the right company, the company that will serve our needs here in the Bahamas and the company that will allow us to continue to do what we need to do and assist us in executing to bring crime down to make our people safer."
According to police statistics, overall crime fell by eight percent last year while murders dropped by 25 percent.
The weekend killings brought the numbers so far this year to six up to press time, according to The Tribune's records.