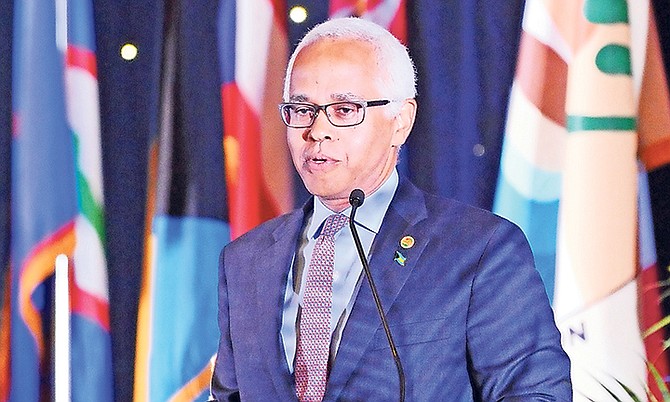 By DENISE MAYCOCK
Tribune Freeport Reporter
dmaycock@tribunemedia.net
TOURISM Minister Dionisio D'Aguilar has challenged Grand Bahama residents to come up creative business ideas to draw tourists, a day after plans for Carnival Cruise Line's mega-port in East Grand Bahama were formally announced.
He spoke to reporters before heading into a Cabinet meeting held on Grand Bahama yesterday.
Mr D'Aguilar expressed excitement about the new $100m port that is estimated to bring over 1,000,000 cruise visitors to Grand Bahama yearly.
"This is a very exciting time for Grand Bahama. I think it was a very uplifting moment yesterday (Monday evening). Finally, the rubber hits the road and we get to see the vision to 2021, a major investment in the economy of Grand Bahama - a cruise port that I am sure will be take hundreds of million to build, and employing over 1,000 in construction, and also be leading to 1,000 permanent jobs and indirect jobs," he said.
"So it was amazing, it was uplifting, it was positive, and I think it bodes well for the economy of Grand Bahama.
"What was most interesting was the fact that they (Carnival) presently bring 460,000 passengers and they are now estimated to bring over one million (annually) and that's amazing," he added.
The minister noted that the key to capitalising on the project will be for Grand Bahama to develop attractions and interesting excursions to draw the people out of the ports. "I saw a nice jetty there where people could go on water tours, and getting the people out onto to buses and in the taxis out in the economy - that is our challenge. Just because they are spending a lot of money it does not mean a lot of money is going to stay here. We have to come up with creative ideas to create businesses that will be able to feed off this one million plus visitor that will come through that port," he said.
Turning to the Grand Lucayan resort, the tourism minister stated that it is incumbent on the government to make a move on the re-sale of the property.
The government expects the bidding process to close in mid-February and the property sold early this year.
Meanwhile, Labour Minister Dion Foulkes reported that the government is looking to hopefully settle payouts with 160 line staff at the Grand Lucayan in this week, and settle with management staff in the next couple of weeks.

"We hope to have everything completed by tomorrow for the line staff at the Grand Lucayan. We have engaged in discussions with the management union to settle payout for all them.
When asked about the percentage of foreign labour to domestic provided in the Heads of the Agreement with Carnival, Mr Foulkes said it calls for 20 percent non-Bahamian and 80 percent Bahamian.
Asked whether Oban Energies' proposed $5b oil refinery and storage terminal in East End, and the port development can co-exist in East Grand Bahama, Mr Foulkes said: "That is not really in my portfolio to deal with, I would prefer Minister of Environment Romauld Ferreira to deal with that. But there is a long distance between Oban which is east of Stat Oil, and this (cruise port) is in the Freeport area so there are many miles between the two developments, so I am not too sure exactly what the issues are."