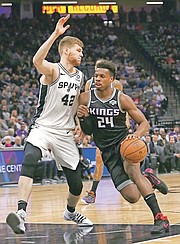 By RENALDO DORSETT
Tribune Sports Reporter
rdorsett@tribunemedia.net
Buddy Hield and the Sacramento Kings have been one of the surprises of the NBA season thus far and extended their home winning streak to seven games.
Hield scored 18 points in
the Kings' 127-112 victory over the Spurs on Monday night at Golden 1 Center in Sacramento, California.
The Kings have gone 16-10
at home at the Golden 1 Center this season
and have now won four of their last five games.
Spurs
head coach, Gregg Popovich, noted Hield's development as an elite scorer.
"He
scares everybody. He moves without the ball. He's tough minded. He's very confident. He's somebody to be dealt with every game."
The
seven wins represent the team'slongest home winning streak since the 2005-06 season when they won 14 consecutive games.
The
Kings face the Western Conference's No.5 seed Houston Rockets today, the Eastern Conference's No.8 seed Miami Heat on Friday and conclude the weekend with the third matchup this season between Hield and Deandre Ayton on Sunday.
Following
Sunday's win over the Philadelphia 76ers, Hield told NBC Sports that the phililosophical change the improvements this season.
"We've
been trying to fight, flirting with .500 with wear we're at but we're trying to win games and stay in playoff contention and we're doing a good job," he said, " Just play our game, keep running, gunning, having fun and playing together and guard."
At
28-25 the Kings have now moved within one half games of the Los Angeles Clippers for the No. 8 spot in the Western Conference.
"If
we were in the East we'd probably be the fifth or sixth seed," Hield said. "Everybody's still doubting us but we believe in ourselves and we're going to keep believing."
Hield is averaging a team leading
20.5 points, 5.1 rebounds, and 2.4 assists per game. Hield is also shooting efficiently at 48 percent from the field and 46 percent from three.
Hield
now has 182 three point makes this season in just 53 games to surpass his previous high of 176 set in the 2017-18 campaign. He is currently tied for fourth in the NBA in three point percentage.
"Im
blessed, all credit to God, he's blessed me so much, I'm nothing without him. I'm just going to keep on working, keep on getting better. It's humbling but I just have to keep on working."
While
the Kings are trending upward, Ayton and the Phoenix Suns are moving in the opposite direction.
He
recorded his second consecutive double double, but the Suns lost their 11th game in a row with Monday night's 118-110 loss to the Houston Rockets
In
his second game back after missing the previous six with a sprained ankle, Ayton finished with 13 points and 11 rebounds.