By NEIL HARTNELL
Tribune Business Editor
nhartnell@tribunemedia.net
RoyalFidelity's president yesterday said he hopes its management-led buyout will provide a springboard for immediate Caribbean expansion and ten percent assets under management growth.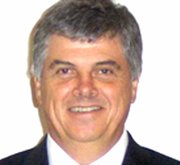 Michael Anderson, pictured, speaking after the investment bank's purchase from Royal Bank of Canada (RBC) and its parent group was confirmed, told Tribune Business that it hoped to enter the Cayman Islands market via acquisition by the 2019 second quarter's end.
He added that "a key objective in the next three to five years" was for the now-independent RoyalFidelity Merchant Bank & Trust to expand beyond its current base in The Bahamas and Barbados, transforming itself into a regional pension administration and asset management player.
Attracting clients in those sectors would also boost demand for RoyalFidelity's other services, such as capital markets (investment funds) and estate planning products, which have all "grown consistently" in The Bahamas over the past several years.
Mr Anderson revealed that he will seek to raise $10m in debt financing "within a week" or so to cover the balance of the purchase price due to RBC and Fidelity Bank (Bahamas), the BISX-listed commercial bank, which have both agreed to sell their respective 50 percent equity stakes to RF Holdings, the vehicle created to facilitate the buyout.
The RoyalFidelity chief, who is hoping to both close the financing and obtain regulatory approval for the deal by early March 2019, confirmed that 83 percent of the investment bank will be owned by Bahamians and permanent residents. The balance will be held by Cayman-based investors.
With the transaction expanding RoyalFidelity's staff by 23 to a total 49, Mr Anderson said the merchant bank is relocating from Frederick Street to Providence House on East Hill Street, a move it expects to occur on February 23.
While RoyalFidelity has the right to retain its existing name for three years upon the deal's completion, he added that a new brand identity would be chosen within that timeline - although no selection had been made yet.
Describing the transaction as a "win-win" for all parties, Mr Anderson said RoyalFidelity had grown to $730m in assets under management, and "close to $2bn" in assets under administration between the two territories in which it operates.
Revealing that assets under management had grown "between 10-15 percent per annum over the last five years", he added that the investment bank was forecasting such expansion rates to continue now that it is a standalone.
"We've forecast 10 percent growth in our plan over the next three years," Mr Anderson told Tribune Business. "I don't think it's that ambitious; inherent in that is the return on existing assets and new assets coming in. It's relatively normal to have that expansion. Hopefully we can grow faster.
"We've seen significant growth in assets under management over the last five years, and expect to see that continue. All of the product lines are growing at a really good rate, particularly with low interest rates at the bank and people needing to find alternative investment opportunities.
"We see more and more people coming in. This market remains hungry for assets in terms of people looking for investment opportunities, and we will continue to find opportunities on their behalf. This economy is starting to pick up and do better. Not only old money seeking new channels to invest, but more money coming in. There's a broader investor base out there."
Once the buyout closes, Mr Anderson disclosed that it would provide a platform for Caribbean expansion with the Cayman Islands the first target. "We're looking at some stage in the next quarter to enter the Cayman market," he told this newspaper. "We're looking to get into the pension and wealth management business in Cayman.
"We're finalising a transaction in Cayman at the moment, and will take that asset and expand its business to be more like what we offer through RoyalFidelity here."
Mr Anderson did not disclose the acquisition target's identity, but Bahamian capital markets sources, speaking on condition of anonymity, suggested it was the Cayman pensions business of its soon-to-be-former parent, the Fidelity group.
Meanwhile, revealing ambitions to also expand into the eastern Caribbean, Mr Anderson said: "One of our key objectives over the next three to five years is to establish a regional pension administration and asset management business.
"We've grown the pension administration business over the last two years, and if we can get into Cayman that's a good market for us. As we go into Barbados and the eastern Caribbean, we see good opportunities to expand the pension business.
"Strategically, our pension administration and asset management business brings opportunities. We see people looking for services once they know we have these products. People start with pensions and become broader clients."
Mr Anderson said the RoyalFidelity buyout had taken 18 months to negotiate and put together, and had an added level of difficulty because it involved talks with two separate sellers - RBC and Fidelity Bank (Bahamas), the latter of which was an affiliate company.
The deal, which will result in RoyalFidelity leaving its parent group, headed Fidelity Bank & Trust International, once it closes and receives the necessary regulatory approval, effectively represents the break-up of the Fidelity Group of Companies, one of the largest and best-known financial services providers in the local market.
The investment bank is a subsidiary being spun-off from its parent, and Mr Anderson revealed that the buyout opportunity had been presented to himself and RoyalFidelity management by shareholders of its parent who were seeking to exit their investment.
These Fidelity Bank & Trust International investors were seeking to sell-off group assets to raise cash/liquidity for their exit, thereby creating the opportunity for management to acquire Fidelity Bank (Bahamas) stake and also open talks with RBC.
"It's something that made sense at the parent level at the time, and made sense for us as a management team," the RoyalFidelity chief said. "Every now and again you get a win-win and solve everybody's problems."
Despite the split with RBC and the Fidelity group, Mr Anderson said both had "indicated a willingness to continue working with us in a partner relationship" even though neither will be a direct investor or shareholder.
However, one capital markets source, speaking on condition of anonymity, expressed scepticism that an independent RoyalFidelity would enjoy the same success - especially without RBC as a 50 percent owner.
They argued that RBC's commercial client base, and its status as "the Government's bank", had been key to opening doors for RoyalFidelity to obtain government advisory and both public and private sector capital raising deals.
RBC clients typically used RoyalFidelity for such deals, and the source said: "It got them to many tables they may not have been at." They added that the merchant bank was also heavily reliant on government advisory work and contracts.
However, Mr Anderson said RoyalFidelity's "new shareholder base creates opportunities" to provide their companies and relationships with products and services.
He confirmed that he was now moving to raise $10m from the Bahamian capital markets to finance the balance of the purchase price now both RBC and Fidelity Bank (Bahamas) had committed to sell.
Investor commitments to finance the remainder should also now crystallise, with RoyalFidelity simultaneously working to supply all information required by the Central Bank of The Bahamas and Securities Commission - director details, financing, capital adequacy and such like - so that the necessary regulatory approvals can be obtained.
Mr Anderson expressed hope that the financing and regulatory approvals will be completed at the same time so that the deal can close in early March 2019. He added that work on Providence House, the investment bank's new home, was now "90-something complete".
"I think by February 15, in a week's time, the building will be largely complete except for the windows we're putting in, so we expect to move in on February 23. We've been retrofitting the premises since November," he added.
RoyalFidelity's 23-strong workforce expansion to 49 has been made necessary because it can no longer rely on the previous "shared services" agreements with other parts of the Fidelity group, requiring it to hire its own human resources manager, chief financial officer, IT and marketing managers.
Mr Anderson said the investment bank's independence will enable staff to "add more value to the operation", with a newly-formed employee share option plan (ESOP) making all management and staff in The Bahamas and Barbados shareholders of RF Holdings.
He added that RoyalFidelity clients would see no changes as a result of the deal, and that it would continue to be "business as usual".