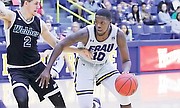 By RENALDO DORSETT
Tribune Sports Reporter
rdorsett@tribunemedia.net
Nashad Mackey returned to form following an early season injury and is once again performing like the standout senior leader of the Embry Riddle Men's Basketball Programme.
Mackey was named the Sunshine State Conference's Defensive Player of the Week and led the Eagles to a pair of wins in the process.
It was his third award of the season and fifth of his career. He averaged 16.5 points and 12 rebounds per game in the wins while also he also added five assists, three blocks, and three steals.
He finished with 15 points, eight rebounds and four assists in a win over Rollins. In the ensuing 60-56 win over the Tampa Spartans, Mackey scored 18 points, grabbed 16 boards, and collected three steals to lead the Eagles.
The Eagles improved to 11-13 on the season, 3-9 in the SSC but won just their first conference home game of the 2018-19 campaign.
The senior forward has undergone injury and become a new father as the Eagles have played below .500 basketball for much of the season.
He recorded three double-doubles in the Eagles' first three games, averaging 20.0 points and 11.7 rebounds per game but a November 11 wrist injury would be the beginning of the struggles for both him and the Eagles.
Ten days after the injury, however, Mackey experienced a life-altering moment with the birth of his daughter, Malayah Rose on November 21.
He returned to the court just over a month later on December 29 and posted a double double in his third game back.
"Being a new father is a blessing, especially being a senior in college," he said. "It's more motivation to work hard in the classroom and on the court. Being a father, full time student-athlete is challenging but once I prioritise, I handle it well. It's also all about sacrificing, giving up an extra hour of sleep for an extra hour to get up shots before practice," he said, "We play in arguably the best league in division two so every night is a challenge. I'm just looking forward to getting better each day and making a run at the national tournament."
As a junior, Mackey produced a number of career milestones and postseason awards.
He was named to the All-Conference second team as well as the All-Newcomer team when the Sunshine State Conference office announced the 2017-18 men's basketball postseason awards.
Mackey made school history when he became the first Eagles player to earn an All-Conference selection. He had an immediate impact on the programme as they transitioned to NCAA Division II with his record-breaking junior season.
He averaged 17.3 points and 12.5 rebounds per game, both team leads. In 28 starts, he also set a new single-season double-doubles record with 23 on the year and ended the season with 13 such consecutive games. He posted a total of 350 rebounds, another school record, ranked second in NCAA Division II.
He finished with nine 20-point games, including one 20-point, 20-rebound game in an upset of No. 10 Barry University. He also shot 88.8 per cent from the free throw line this season, ranked sixth among single-season totals in programme history.
The Eagles finished the season at 11-17, 5-15 in the conference.
As the team's leading returning scorer and rebounder, he took on a greater leadership role in his senior season.
"Being a senior and captain of the team my roles are more than on the court controlling huddles. They are more of investing in all seventeen players - learning about them and their families, what motivates them or how the cope with stress," he said.