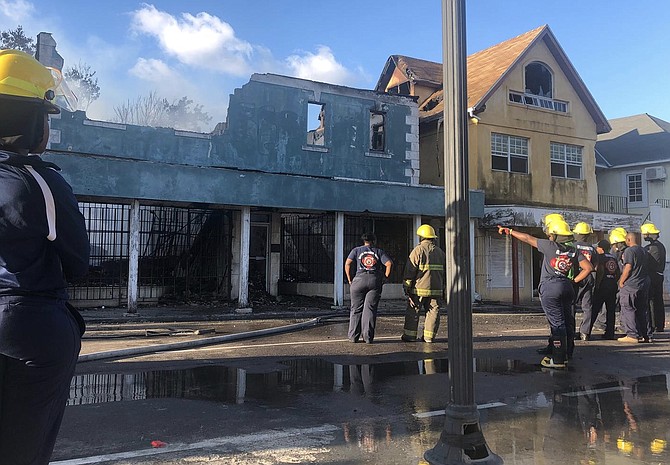 By RIEL MAJOR
POLICE are investigating a blaze that destroyed a two-story building on Bay Street yesterday.
Head of Police Fire Services, Chief Supt Walter Evans said firefighters responded to a fire at a building which used to house a jewellery store sometime before 5am.
"This morning when we got the call, the first responders met heavy flames coming from a two-story building," he said.
"The blaze took place on Bay Street this was just near Deveaux Street and left a building destroyed. There was one building to the east and another building to the west had received some damage those buildings were being threatened. They are two-story buildings and they were closely positioned near where the area of concentration was.
"There was a partial collapse of the building due to the excessive heat.
"…The wind was blowing toward the south. Wind was a major contributor to the propagation to that fire this morning."
CSP Evans said Bay Street was closed around 8am between Victoria and Deveaux Streets for the safety of pedestrians and vehicular traffic.
At the scene, he commended the high turnout of firefighters as high winds were a major challenge in containing the blaze. All emergency vehicles were needed, according to CSP Evans, who added off-duty fire staff were also requested for duty.
The cause of the blaze was unknown up to press time.