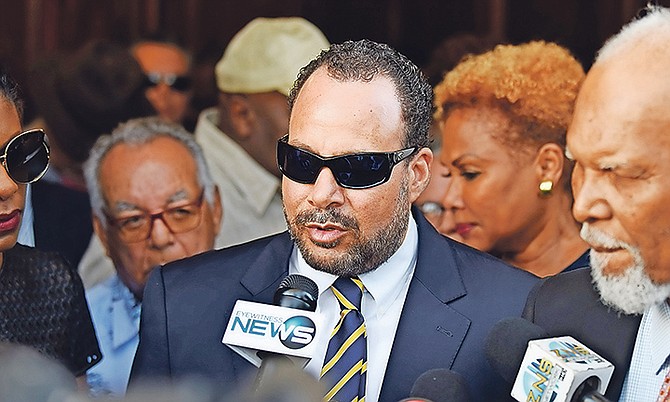 By RIEL MAJOR
A group of concerned citizens says its members are planning to protest for the resignations of Health Minister Dr Duane Sands and National Security Minister Marvin Dames for the role they played in the Frank Smith trial.
Ricardo Smith, a member of Concerned Citizens for Justice and Empowerment, said as early as next Wednesday, they are going to take their demonstration to the streets.
Mr Smith, who is also a member of the Progressive Liberal Party, said: "We have decided it is incumbent on us to take this to the next level. We are going to announce our date of demonstration. We are going to call on the commissioner of police and we are going to call on the independent prosecutor to do their jobs. We are going to articulate in letters to them what we think should happen as far as this matter.

"We can't allow this. We are steadfast and there is no other way…we want to make sure that the citizens of the Bahamas have the right to have our wishes heard by those who are in position of power. We believe that there are established conventions that dictates that when these persons find themselves in these types of positions that they don't wait around…they don't hang around when they do that which is honourable. Because this is supposed to be an honourable Parliament... for us now, we are placed in a position whereby the citizens of The Bahamas have to act.

"The administration said they would come here, and they would be cleaning up all of the mess and they would be fixing this and fixing that. The fact of the matter is it appears that they are messier than anything else."
Mr Smith said Prime Minister Dr Hubert Minnis has a responsibility at this time to fire both Mr Dames and Dr Sands and if he fails to do his duty, he himself must go.
"We as citizens, we have no other choice (but) to take our plight to the streets to ask before the state to become involved and demand these people to do the right thing or else there would be no law. There would be no order in our country."
Mr Smith said a letter was drafted asking for permission to demonstrate and the group is currently waiting to be granted a permit to protest.
PLP leader Philip Davis has repeatedly called for the resignations of Mr Dames and Dr Sands after Mr Smith was acquitted of bribery and extortion charges last week. In her ruling, Chief Magistrate Joyann Ferguson-Pratt pointed to numerous "inconsistencies" and "discrepancies" in the Crown's case, which she further said was "undermined" by its own witnesses. She also cited the "egregious" behaviour of two Cabinet ministers connected to the matter.