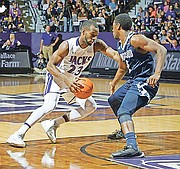 By RENALDO DORSETT
Tribune Sports Reporter
rdorsett@tribunemedia.net
Nathan Bain's career high effort keyed a comeback win for the Stephen F Austin Lumberjacks to highlight Bahamian players in NCAA division I basketball Wednesday night.
Bain scored a career high 16 points with four rebounds, three steals., two blocked shots and several key plays down the stretch in the Lumberjacks' 79-77 win on the road over Houston Baptist.
It was Bain's steal - his third of the game - with 17 seconds to go that secured the final possession and got it to teammate Kevon Harris who clinched the game with free throws in the closing moments.
Trailing by 11 with just over five minutes left to play, SFA outscored their opponents 19-6 down the stretch. Bain and Harris combined to score 15 of those 19 points.
Bain's layup cut the Huskies lead to just two, 75-73 with 1:32 left to play. He then grabbed an offensive rebound and was fouled on a putback which he converted for a three point play and a 76-75 lead.
In his third full season of availability, Bain got off to an impressive start with the Lumberjacks an has averaged 6.1 points and 4.4 rebounds per game in his junior season.
After playing sparingly in previous seasons, Bain has started three of five games thus far, averaging 8.5 points and 5.4 rebounds per game
He set a new career high in the season opener with ten points against Texas Wesleyan and followed with another ten-point effort against Southwestern Assemblies. In a career high 33 minutes, he posted a near double double with seven points and eight rebounds against Miami (FL) and posted nine points and eight rebounds against Marist.
As a true freshman, Bain saw time in 24 of SFA's 34 contests.He posted averages of 2.4 points, 2.1 rebounds and 7.5 minutes per game. As a sophomore, he suffered a back injury that significantly shortened his 2016-17 season.
He took part in only three games for SFA before getting sidelined and recicving a medical redshirt. Last season, he appeared in 24 of the 'Jacks' 35 games and averaged 2.0 points, 0.8 rebounds, 0.3 assists, 0.5 steals and 0.3 blocked shots in 6.4 minutes per game.
Travis Munnings had a near double double with 12 points and nine rebounds in an 82-76 win over the Georgia State Panthers.
The Warhawks ended the game on a 9-3 run to end a three game losing streak and improve to 10-1.
Munnings, the senior forward, is averaging 13.4 points and 7.4 rebounds this season.
"Being a senior comes with a lot of responsibility, you've got to bring it each and every day. You can't be lacking because you have guys that are following your lead," Munnings said at Warhawks media day, "I have to come ready to compete each and every day and night and to be a leader that I was called to be."
Last season, he was named a Louisiana Sports Writers Association (LSWA) Men's College Basketball Team, Second-team All-Sun Belt Conference selection and won Sun Belt Player of the Week.
This season, Munnings became just the fourth player in school history to reach 1,000 career points and 800 rebounds.
Jaron Cornish and his Stony Brook Seawolves continue to be one of the best road teams in NCAA Division I.
The Sea Wolves scored an 85-59 win over the Binghampton Bearcats. Cornish showed his versatility on the floor with 11 points, five rebounds and six assists.
He shot 3-4 from three point range, and the entire Sea Wolves team had an efficient shooting night from beyond the arch with 13 three pointers, one shy of the school record.
"Really proud of our guys. I think we did a great job sharing the basketball. Their zone bothered us in the first game, but we made a concerted effort of getting the ball inside then out and we had 21 assists," head coach Jeff Boals said, "When the ball goes in from three, it makes the job a little easier."
Cornish, the senior point guard is averaging 7.8 points, 4.1 rebounds and 3.6 assists per game this season.
After going 2-22 at UMBC, the Seawolves are shooting 44 percent (23-52) as a team from outside the arc in the last two games. Stony Brook's 52-percent output from 3-point land is the best of the season, taking down an even 50 percent effort against Quinnipiac on
December 1. Stony Brook has had four players in double figures in scoring in each of the last two games. They are 12-0 when this happens. Stony Brook has now won 11 true road games this season, which remains the most of any team in the country.