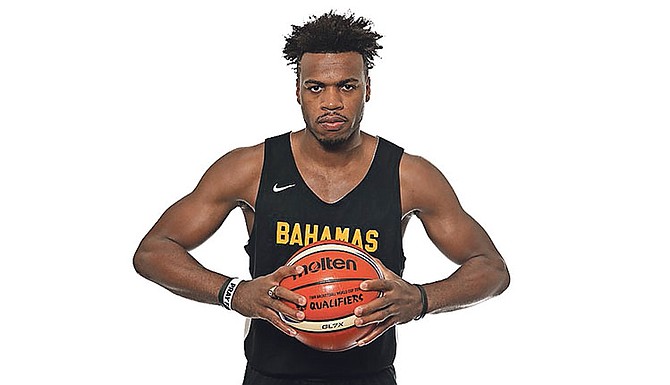 By RENALDO DORSETT
Tribune Sports Reporter
rdorsett@tribunemedia.net
Buddy Hield is no stranger to transactions at the NBA trade deadline but while he was not involved in any deals this year, his Sacramento Kings were busy shuffling the roster.
Just before the clock expired on the trade deadline yesterday, the Kings added Harrison Barnes, Alec Burks and Caleb Swanigan to the roster, but teammates Justin Jackson, Zach Randolph and Skal Labissiere were traded away.
"It was a tough day, the air is negative, but you got to remember this is a professional business, you got to move on, you can't dwell on it because if you dwell on it and you get lost in the sauce. We are all here for something we're trying to get to the playoffs. But today it leaves a bad taste in your mouth, we lost some guys we went to battle with – to see guys like JJack and Shump gone like that – hats off to them in their new destination.
"Shump has been a pro for about eight years now, he's been through it, I wish them the best," Hield said.
"To our new teammates Harrison and Alec, we welcome them with open arms, can't wait to meet each other, play with them, learn their games. Harrison has some good championship experience, Alec played in the playoffs a few years so we're excited to get to work, our main focus is to get to the playoffs and we just added two pieces."
The Kings sent second-year forward Justin Jackson and veteran forward Zach Randolph to the Mavericks for Harrison Barnes. The Kings were also involved in a three-team trade that landed Alec Burks.
The Rockets sent guard Brandon Knight, forward Marquese Chriss, a 2019 lottery-protected first-round pick and a 2022 second-round pick to the Cavaliers. The Cavaliers, Burks to the Kings and guards Nik Stauskas and Wade Baldwin and a 2021 second-round pick (via Milwaukee) to the Rockets. The Kings will also get the Rockets' 2020 second-round pick.
The Kings also traded forward Skal Labissiere to the Portland Trailblazers in exchange for forward Caleb Swanigan.
"The vibe was different because [nobody wanted to believe it] it messes with your mind but it's the business side of it, we're playing for something that's just how it is. I got traded, I was about to go out All-Star Weekend and it killed the whole vibe," he said,
"We're professionals, we have to move on do our job and be ready for play. This is our job we have to take care of our families at the end of the day, We cant feel too sorry for anybody. If the organisation moves on from us, that's the business part of it, we go somewhere where somebody else wants us. We trust Vlade and everything management is doing."
Just about halfway through his rookie season, Hield was on the move to a new franchise following a blockbuster trade during the late hours of NBA All-Star Weekend 2017.
Hield was one of the principals in a trade that saw the Bahamian guard packaged along with Tyreke Evans, Langston Galloway, a future 2017 first-round and second-round pick to Sacramento in exchange for All-Star centre DeMarcus Cousins and Omri Casspi.
The Kings are currently 28-26 and ranked No 9 in the Wester Conference, one half game behind the Los Angeles Clippers for the final playoff spot.