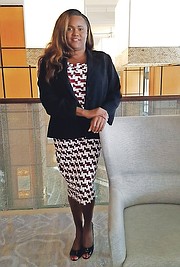 By KHRISNA RUSSELL
Deputy Chief Reporter
krussell@tribunemedia.net
MORE than half of the 5,400 men onboard the exclusively gay Allure Caribbean Cruise disembarked the ship on Monday, a development activist Alexus D'Marco says is a good indication the capital is viewed as "safe" for the gay community.
Ms D'Marco, lead spokesperson of the D'Marco Group, said the organisation estimated that around 3,343 gay men left the ship and headed to the Bay Street strip to either shop or sight-see without major incident.
However, she said, there was one steel pan musician who played the controversial Buju Banton song "Boom Bye Bye" as some Allure guests passed by. Ms D'Marco said she explained the song's offensive lyrics – which advocates violence against gays – and asked that Bahamian music be played. The musician agreed, she said.
The group collected data on how many left the shift and compiled brief comments from guests about their perceived level of safety at the Prince George Wharf and downtown area.
This, Ms D'Marco said, is a nod in the right direction toward the country marketing itself as a destination for all, including those in the lesbian, gay, bisexual, transgender and intersex (LGBTI) community.
"Some of the tourists we spoke to they said they felt comfortable," Ms D'Marco said in an interview with The Tribune. "They saw the police and they felt better when they saw us, people who they could identify with greeting them. So there was a better sense of security.
"The people were very friendly towards them, which was very surprising especially when they went into the Straw Market, the ladies there were cordial to them. So that's what stood out to them most - the hospitality they received."
She added: "The Bahamas is really I think a distinct destination. It's a place where everybody can come. The thing about it is when it relates to tourism I think business is something that everybody understands and commerce is something that every country needs.
"If we understand the effects of tourism and what we have to offer such as hospitality, sun, sand and sea, we're competing on a whole different market. Other countries offer sun, sand and sea and so our product has to be a little different.
"But I think what sets us apart is our hospitality and the way we treat people. Once they come into our stores or restaurants or bars, wherever our guests frequent, I think that's what sets us apart.
"So if we can keep that up with all tourists and get away from being this country that don't allow LGBT tourists, we are creating a shift in perception.
"What also stood out is there was no public display of affection and they were also advised not to do it on the ship. A guest confirmed this and they were advised not to show any offensive behaviour, that they understood the dynamics of this country right now. There are people who want to come and I think LGBTI tourism has a place here."
As of 2018, LGBTI tourism worldwide was pegged as a $218.7bn industry and is something Victor Rollins says the Bahamas needs to focus more on.
He is the owner of HIPS International, a destination management company that caters to members of the LGBTI community.
His business has been able to find a small opening in the market as groups from the LGBTI community constantly complain there is nothing logistically which appeals directly to them.
While the scenario has changed in this regard when compared to years before, Mr Rollins said the country has a long way to go when it comes to its marketability and appeal to those in the community.