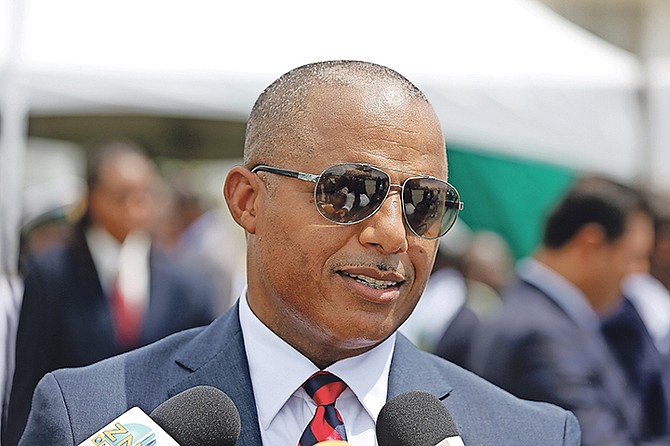 By REIL MAJOR
IN the wake of Tuesday's police-involved shooting, the first of the year, National Security Minister Marvin Dames said body cams for law enforcement is on the way.
However, he did not give a definitive timeline on when officers responding to crimes will be equipped with the cams.
Mr Dames was asked about body cam implementation Friday after he spoke to AF Adderley Junior High School students during an awards ceremony on the campus.
He said: "We have our Cabinet paper. (It) has been prepared and that should be going before Cabinet any day now. As soon as we get the green light for Cabinet, I'm hoping sometime maybe within the next week or two that we will be sending that RFP out and hopefully we can expect to see the body cams.
The minister highlighted the importance of body cams moving forward in their fight against crime.
"We move to bring a greater level of transparency so that both the police and the public will certainly have a greater appreciation what we are trying to achieve as we introduce body cams," said Mr Dames.
When asked if he thought there was an uptick in murders so far, Mr Dames said, "I think last Friday there were three incidents so we have six (murders) for the year and we are now in February…last year this time we had 12 in January alone."
He added: "Last Friday we had three separate incidents that had occurred where persons died. I'm happy to report, however, those three incidents were cleared and persons should be going to court very shortly. If not today, certainly by early next week, so the police has moved quickly to close all of those matters."
Mr Dames wanted to remind the public that the efforts of the Royal Bahamas Police Force will not stop all of the murders.
"I'm certain you would have heard that over and over again it is going to take a collective effort from each and every Bahamian."
His comments come after police shot and killed a man Tuesday after he allegedly attempted to attack an officer with a silver knife in a shanty town located in the Joe Farrington Road area.
According to Chief Superintendent Solomon Cash, after 1.25pm the police launched a manhunt operation in the area to locate the wanted suspect.
At the time CSP Cash said: "As a result of that, the officers went in separate directions behind the houses in this shanty town when they encountered the suspect.
CSP Cash said an officer approached the suspect and identified himself as law enforcement when the deceased pulled out a silver knife with a long blade, attempting to attack the officer.
He said: "The officer struggled with the suspect, trying to disarm the suspect, however the officer being in fear of his life at the time produced his service revolver and shot the suspect several times which resulted in him succumbing to those injuries."
CSP Cash also confirmed the suspect was a Bahamian of Haitian decent, between the ages of 20 to 24 and was not a stranger to police.
He added: "This was something specific as usual, once the suspect comes to the police's attention, we send our men out in search of those suspects with an effort to try and bring him into custody to try question them on all the allegations that they are suspected of committing.
"If it is brought to the police's attention that a suspect is wanted for any crime and the police have reasons to go and arrest these suspects, if these suspects are violently attacking the police or producing weapons resulting in the death of officers – officers knowing their training if they are in fear of their life, they will use their revolver or pistol to protect themselves from any harm or death."
The incident has been turned over to the Coroner's Court for investigation.