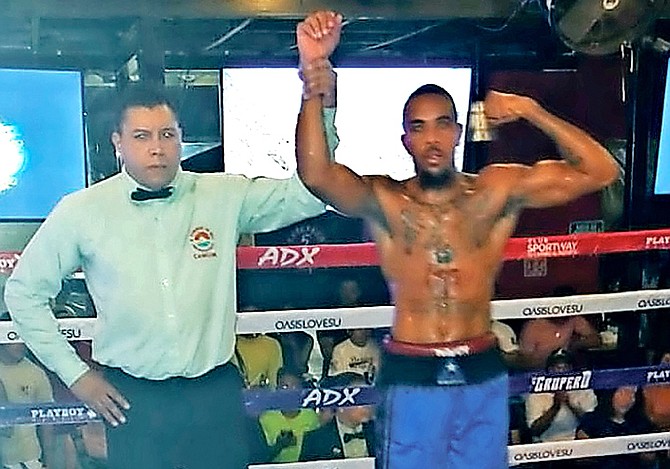 By BRENT STUBBS
Senior Sports Reporter
bstubbs@tribunemedia.net
RASHIELD Williams wasted no time in pulling off his professional debut on Saturday night in Mexico City.
In turning pro after he completed a long amateur programme that ended with a trip to the Commonwealth Games in the Coast Coast, Australia last year, Williams needed just one round and 45 seconds to dispose of his opponent.
"I want to give God thanks for my first one," Williams said. "I stepped in there and did what I had to do."
The 29-year-old Williams said he was over-excited to get into the ring for his first four-rounder, but he got the job done.
"The guy came out very aggressive, but I held my composure," he said. "I came out aggressive myself. But because the Mexicans like to come right at you, I waited for him and eventually my strength worn him down."
It was a right shot to the Mexican chin that sent him to the canvas to signal the end of the fight.
"I could have gone a little longer and be more patient, but I was too hungry to take him out," Williams reflected.
Williams' new coach Normal Wilson, who has been working with him since December when he met the transition to Fort Lauderdale to train at the Contenders Boxing Gym, admitted that it was a normal procedure for Williams, like every amateur fighters, to get over anxious to get his feet wet.
"The guy came out trying to take out Rashield, but he took his time and he took him out in the second round," Wilson said.
"It was very impressive. It looked very good."
Having worked with Williams on the international scene during his amateur days, Wilson said he was aware of Williams' capabilities and he lived up to the expectations for his first pro fight.
"He tried to get the job over as quickly as possible," Wilson said. "He got it over in a round and a half because he really hurt the guy in the first round. But the guy hung on and he took him out in the second round."
After working with Williams for about a month, Wilson said he was impressed with what he saw, but he have to get him ready for his second fight round March 16.
"He will take a few days off and we will be right back in the gym," Wilson said, "He just have to be more patient. He can't wait. He's willing to take his opponent out as soon as the bell ring. That's the only thing have to work on.
"His skills are very good. His knowledge of what he is doing is very good. He just have to be more patient. Pretty soon he will be moving from a four round fighter to a six rounder and then an eight rounder. He have to be patient as he move up. He can't expect to be Mike Tyson, who go right in and take you out."
That will come with maturity and taking care of business in the gym. But from what he saw, Wilson said Williams is definitely on the path to having a great professional career.