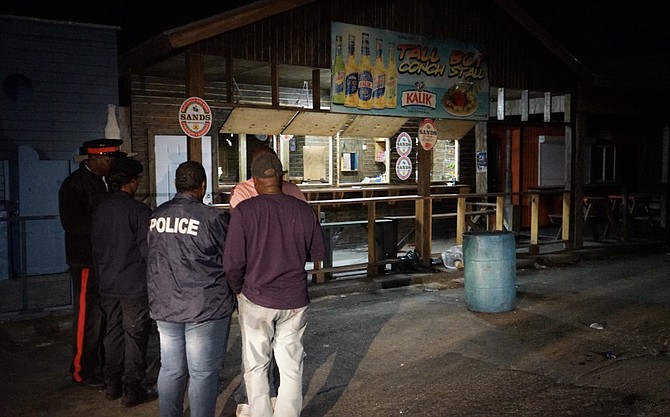 Four men were killed in separate incidents over the weekend with two of the killings taking place roughly an hour apart and just streets apart.
The first of Sunday's three murders took place shortly after 9am on Washington Street and Balfour Avenue. The second took place around 10am on Miami Street and Robinson Road. The third happened when a man was shot and killed at Potter's Cay Dock.

The three murders came a day after one man was killed and another was injured following a shooting off Cowpen Road in the early hours of Saturday.
According to police, in the first incident on Sunday, a man was sitting in front of a business on Washington Street and Balfour Avenue, when he was approached and shot by a male armed with a firearm.
The gunman subsequently got into a silver vehicle and sped out of the area. Emergency Medical Services (EMS) personnel were called to the scene and transported the victim to hospital, where he died about half an hour later.
Then shortly after 10am, a male was standing in front of local establishment on the corner of Robinson Road and Miami Street, when he was approached by a male brandishing a firearm, who shot him before running away.
Paramedics were called to the scene and attempted to revive the victim, but were unsuccessful. He was pronounced dead on the scene.
Chief Superintendent Solomon Cash, the officer-in-charge of the Central Detective Unit (CDU), said investigators have noted the close proximity of yesterday's incidents, but said they do not "want to go out on a limb" and prematurely declare that the two were related.
However, he said police will investigate both matters to determine if they were in fact connected.
Chief Supt Cash also said it was too early in the investigation to say whether yesterday's victims were known to police, however, he said officers have noted several shootings in that same area in "recent times", and have since "doubled" their efforts to hopefully prevent any future incidents from occurring.
As regards yesterday's third murder, police were called to Potter's Cay Dock shortly after 8pm after receiving reports that a man had been shot.
At the scene, Superintendent Shanta Knowles said: "This man was patronising a business establishment here at Potter's Cay Dock when he was approached by another man armed with a firearm who shot him before running away. We are appealing to members of the public, especially those who were here during the time of this incident who may have seen what happened or who may have information that can identify the person responsible to please give us a call on our Crimestoppers line, 328-8477."
On Saturday, a man was killed and another was injured following a shooting at a Haitian village off Cowpen Road.
According to police reports, shortly before 1am, a group of Haitian nationals were hosting a party when two armed men emerged from bushes and opened fire, shooting two men.
Paramedics were called to the scene and pronounced one of the men dead.
The other man was transported to PMH, where he is listed in serious condition.
Yesterday, Chief Supt Cash said investigators are still looking for more information concerning that matter.
"That investigation is ongoing," he said. "We are probing the entire community on Cowpen Road with hopes that eventually we'd be able to identify who the perpetrator of that incident is."
This marks the second bloody weekend in February. Three men were killed in separate incidents that occurred between Friday, February 1 and Saturday February 2.
Ten people have been murdered so far this year, according to The Tribune's records, and Supt Knowles went on to reassure the public over the spate of homicides this month.
She said: "We are still out there on the streets, we will not stop our operations. We will continue to work the streets so we can bring calm to what has happened over the past few hours.
"It is always a concern when anyone loses their life. We have been in situations like this before, we came out of those.
"Patrols have been increased. We have not stopped our operations since last year, we have flooded the streets with all available vehicles and manpower and those will continue. We are still working the 2018 plan, it worked for us, we saw our numbers decrease and we will continue to work until the commissioner give us new directions."
Anyone with information that can help police is asked to call CDU at 502-9991 or Crime Stoppers at 328-TIPS.