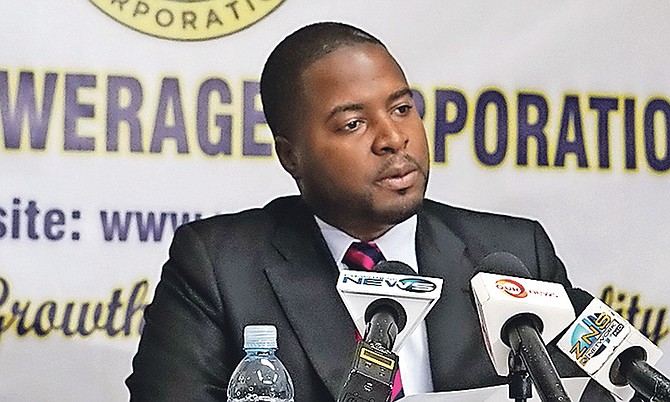 By NICO SCAVELLA
Tribune Staff Reporter
nscavella@tribunemedia.net
BAHAMAS Utilities Services and Allied Workers Union president Dwayne Woods "has not performed a day's work" for the Water and Sewerage Corporation in years, according to its executive chairman, who said the man stills gets paid approximately $60,000 a year despite being on "administrative leave".
WSC executive chairman Adrian Gibson said "unlike any other union president in The Bahamas", Mr Woods draws an annual salary of some $60,000, accrues vacation time and sick leave, the latter of which adds up and rolls over, and "enjoys all the benefits" without ever coming to work.
That, Mr Gibson said, is notwithstanding the $2,000 or so Mr Woods "pays himself" as the union's president, and the other "perks" he enjoys such as the union paying for his cellphone, airfare "whenever and wherever he travels", and allegedly gasoline for his vehicles.
Mr Gibson said Mr Woods has also requested yearly increments and additional benefits, promotions and/or upward mobility, despite not having a job description and therefore being "unable to have his performance evaluated in the absence of any WSC job-related performance/activities".
The Long Island MP said due to the "simply unjust and unfair" practice of Mr Woods being paid $60,000 plus perks without performing any work for WSC, the corporation decided as of last year May not to renew his administrative leave, and to order Mr Woods back to work.
Mr Woods, in turn, has filed a Supreme Court action against the corporation, the crux of which, according to Mr Gibson, is that he feels he should not return to work and continue being paid by WSC.
However, Mr Gibson said the corporation has instructed its attorneys to seek to strike out the BUSAWU's writ of summons as the matters stated therein are personal to Mr Woods and consequently, the union has no capacity to bring that action before the courts.
The revelations were made during a press conference at WSC headquarters in which Mr Gibson responded to Mr Woods' statements on Friday concerning, amongst other things, WSC's alleged denial of his administrative leave and the free usage of office space for union meetings.
At the time, Mr Woods further announced that line staff at the corporation are eyeing a strike vote, charging that "all we have to do is withdraw our enthusiasm and it'll take care of itself."
Yesterday, Mr Gibson conceded that WSC did in fact refuse to renew Mr Woods' administrative leave with pay, but said it did so in light of the "realities on the ground" and the fact that "no other union leader enjoyed such a free-ride on the taxpayers."
As an illustration, Mr Gibson noted that the president of the Water and Sewerage Management Union (WSMU), Ednel Rolle, who is also Mr Woods' supervising manager, reports to work daily. The same is true for Bahamas Electrical Workers Union (BEWU) President Paul Maynard as well as the president of the Bahamas Electrical Managerial Union (BEMU).
Additionally, Mr Gibson noted that the president of BTC's non-management union is on administrative leave without pay from BTC. He noted that the administrative leave in question is not a facet of the union's industrial agreement, nor an automatic right afforded to the president of the union. Rather, it is something that, based on years of practice, has been requested annually by the union's president, and is something WSC's board has the discretion to either cancel or renew.
Mr Gibson said to date, Mr Woods "remains off the job" and has not reported for duty, but said the union president came onto WSC's Thompson Boulevard compound last week "seeking to incite the employees to move a strike vote in support of him."
However, Mr Gibson said if Mr Woods really felt so strongly about not wanting to work, he could retain his administrative leave, just "not at any cost to the Bahamian taxpayers." Or, Mr Gibson said, the union could instead foot the bill.
"WSC would suspend all salary, vacation and sick leave accrual given that he would be on leave," Mr Gibson said. "And, the union can continue to pay his salary and whatever other expenses accrue as a result of his leadership duties."
Mr Gibson added: "Mr Woods—much like Paul Maynard and other utility union leaders—would not be impeded in his duties. He would just be working for the high salary he earns."
Concerning the issue of a strike vote, Mr Gibson said WSC's management is "unaware of any willingness of staff to strike," adding employees have indicated to management that they cannot, in "good conscience" support "such an action given the fact that they too must attend to work daily."
He added: "WSC does not intend to impede Woods in performing his union duties. However, our view is that Woods returns to the job. I encourage the maintaining of an open-door policy here at WSC. If Mr Woods truly wishes to be conciliatory, he should follow Article 25 which fully sets out the agreed upon grievance procedure. With this, and nearly every other small union matter, he has been documented over the years—even before our appointment—as skipping critical stages in the process.
"...Rather than resolving issues, Mr Woods ought not (to) blow them up. His conduct is not conducive to fostering harmony and a satisfactory environment, which is a necessary facet of his relationship with WSC."
Mr Gibson also refuted Mr Woods' previous claims that there has been "little to no communication" from WSC's management on a proposed voluntary separation (VSEP) exercise in the absence of a new industrial agreement.
Mr Gibson referred to a letter Mr Woods wrote to former WSC General Manager Glen Laville dated December 12, 2018 in which Mr Woods referenced some 15 persons interested in taking early retirement packages.
"So Mr Woods is being duplicitous when he says, or when he comes as if he doesn't know about the voluntary separation packages when he himself has been requesting them," Mr Gibson said.
He added: "No one is forcing anyone out the door. If no employees decide to accept the voluntary separation packages, what can we do? But we know that several employees have asked us for the same."