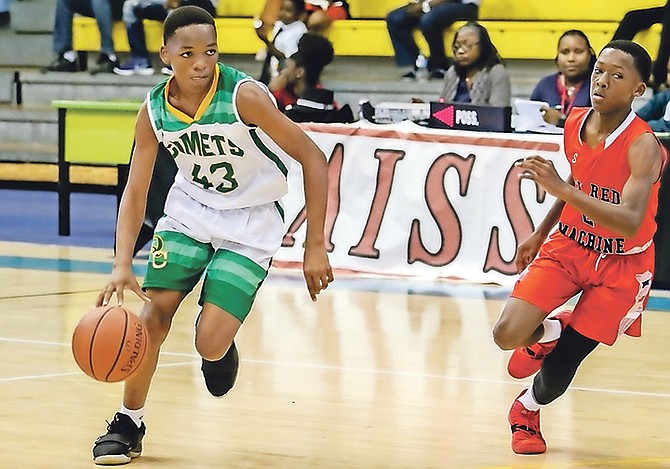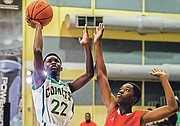 By RENALDO DORSETT
Tribune Sports Reporter
rdorsett@tribunemedia.net
The country's top rivalry in high school sports continued on the basketball court as the St Augustine's College Big Red Machine and Queen's College Comets split the pair BAISS sudden basketball junior division semifinals.
Junior Girls
(4) St Augustine's Big Red Machine – 40
(1) Queen's College Comets - 32
The first game of the afternoon produced our first upset when the fourth-seeded Big Red Machine eliminated the Comets.
Antonicia Moultrie led the Big Red Machine with 20 points, A'Jani Culmer scored eight while Shakimah Clarke and Orielle Johnson each finished with six.
Denika Lightbourn led the Comets with a game-high 21 points.
The Comets took an early 4-0 before six unanswered points from the Big Red Machine to take their first lead of the game. They led 8-5 at the end of the first.
SAC took a 14-7 lead when Moultrie made back-to-back three-pointers. The run continued when she dished an assist to Culmer for an easy layup and 10-0 on a Clarke score for an 11-point lead. Lightbourn finally brought an end to the Giants run for QC when she split a pair at the line. SAC led 23-11 at the half.
Lightbourn opened the third with a driving layup, but the Big Red Machine had an answer for every score she would deliver in the quarter. She scored nine in the period but SAC continued to build on the lead and led 33-23 at the end of the third.
The Comets scored the first four points of the fourth to pull within six, but a Johnson jumper regained an-point lead for SAC with under two minutes left to play as they pulled away late.
They will advance to face the winner of the St John's Giants versus Jordan Prince William Falcons in the other semi-final.
Junior Boys
(1) Queen's College Comets - 36
(4) St Augustine's Big Red Machine - 17
The Comets' top ranked junior boys looked like the division favourites they were all season in the lopsided wire to wire win.
J Munnings scored nine to lead the Comets while E Simmons had eight and M Pierre finished with seven.
The Big Red Machine scored the opening basket but the Comets trap led to six unanswered points. Simmons, with back to back scores gave the Comets an 11-3 lead midway through the period. They limited the Big Red Machine to just two field goals in the quarter and took a 17-5 lead at the end of one and 22-12 at the half.
Both teams struggled to score and the game slowed to a halt in the third. Just a single field goal and five points were scored between the teams as the Comets took a 27-14 lead into the fourth.
The Comets advance to face the winner of today's Kingsway Saints versus Falcons match-up.