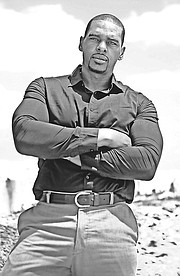 Health coach Ethan Quant, of Elite Wellness Solutions, has succeeded in his weight loss journey and now wants to share his methods with the Bahamas in an effort to foster a culture of wellness and conquer the obesity epidemic.
Once we have set our health wellness and fitness goals using the SMART (Specific, Measurable, Achievable, Relevant and Time-bound) model, we must now ask ourselves how are we going to now integrate these goals into our lives. My simple answer is: very slowly and carefully. It's common to want to see results immediately, or at least in the same amount of time that someone else did.
This is where I have to stress to you that everyone is on their own journey and you should focus on your own. You are your measuring stick, not someone's random Instagram post. With that said, you are also your best chance of finding the way to integrate these new behaviours into your life. Think about it, who knows what's going on in your life better than you? You are the expert in all things you. Believe it or not, this is the exact same approach I take with my health and lifestyle coaching clients. They are experts in their lives and I am an expert in lifestyle modification and behavioural change, and together we will move from where we are to where we want to be.
Now in thinking about effective integration we can't start off too slow. For example, I had a client who told me she didn't have time to work out because she was so busy with the kids. However, she realised that she had at least 20 minutes a day three days a week to walk the track while her daughter was at swimming practice. She completely overlooked that because she figured if she didn't have an hour to work out she wasn't doing anything. But she quickly saw that those little changes added up in a big way.
When you are looking at integrating new behaviours into your life, the question to ask yourself is how; how can I do this. Where are the spaces in my day, week, month, that I can use to introduce these new healthy habits. It's just like when you start tracking your spending and you realise just how much money you spend on eating out. Tracking your time is the same thing, except you can make more money, you can't make more time.
So once we have figured out how to effectively integrate our new behaviours into our lives, we think we have it all planned and figured out. I ask my clients, now let's think of things that can come up that would cause you not to follow the plan. I often get a look of mild confusion. But the truth is that thinking about obstacles to behavioural changes actually is an important step to changing your behaviour. Like I said before, you are the expert in your life. You know the things that can possibly and have actually thrown you off your game before. The difference here is that were aren't just identifying them, we are going to plan for them. Yes, we are going to plan for when life, more specifically your life, smacks us in the face. When that happens we don't miss a beat, because you planned for it so we know how to adjust and keep pressing forward. That is really the key, to keep pressing forward. If you do that I can guarantee that you will be successful in your health wellness and fitness journey.
• If you need help navigating any part of your health, wellness and fitness process, you can contact Ethan Quant at ethan@elite-wellnesssolutions.com or on Instagram at @ethanquant.