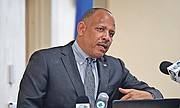 By NEIL HARTNELL
Tribune Business Editor
nhartnell@tribunemedia.net
The Minister of Health has confirmed that the much-touted $100m-$130m price tag for National Health Insurance (NHI) only covers "the government's exposure" to the scheme.
Dr Duane Sands, while disclosing this figure did not include the contributions that employers and employees will pay to finance NHI coverage for 206,000 workers, denied there had been any change to the initiative's pricing.
"There's been no change in the costing, other than going from $100m to $130m," he told Tribune Business. "It hasn't changed from day one. But that assumption did not include who paid for what. That is the government's exposure."
Dr Sands said a recent release from the NHI Authority, distinguishing between the revised $130m that the government will pay to finance healthcare for 160,000 to 170,000 Bahamians not included under the "employer mandate", and the contributions paid for workers covered by this, was the first time this distinction had been revealed.
Reiterating that there has been no change in costing, he directed Tribune Business to speak with Graham Whitmarsh, NHI's managing director, adding that it was "very important this doesn't take on a life of its own" with Bahamians already talking about huge cost hikes on social media.
Despite multiple phone calls, and the sending of text messages, Mr Whitmarsh has not responded to this newspaper's request for further explanation on NHI's costs and financing.
Dr Sands' comments, though, confirm that Tribune Business's interpretation of the NHI Authority's statement last week was wholly correct - and that the scheme's true cost, when adding the "employer mandate" contributions to the government's payment, was closer to a range between $200m to $236m.
Healthcare for the 206,000 covered by the employer mandate will be financed through their annual $1,000 Standard Health Benefit (SHB) premium, NHI's minimum level of care, which is to come from a combination of 1.5 percent of their annual gross salary and employer contributions.
This cost is separate, and on top of, the $130m that will be incurred by the Government (Bahamian taxpayer) in financing NHI coverage for the 160,000 persons not covered by the employer mandate.
"Here are the facts about how much this programme will cost," the NHI Authority statement said. "First, for businesses required to provide health insurance to their employees under the new employer mandate, the NHI programme will cost $1,000 per employee per year or about $84 per month.
'"These businesses will be permitted to recoup up to 1.5 percent of an employee's full wages (inclusive of gratuities, overtime and bonuses) to share in the cost of the premium. This means for an employee earning over $66,667, they will pay 100 percent of the premium."
The statement then asserted that "this is not a tax" on the basis that the premium will be "paid to private insurers, not the Government", although many observers will likely disagree given the similarities to the payroll tax that finances National Insurance Board (NIB) contributions.
"In return, employees will receive private health insurance with minimum benefits prescribed by the Standard Health Benefit (SHB) under NHI. It is estimated that the employer mandate will cover approximately 206,000 people, a portion of which are already covered under some form of insurance by their employers," the NHI Authority continued.
Then, turning to those Bahamians who are not working, the statement said: "Second, for everyone else not covered by the employer mandate, which includes senior citizens, children, indigent, unemployed or employees of exempted businesses (businesses with less than $250,000 in annual turnover), they will be able to receive the SHB coverage from NHI at no cost.
"When launched on July 1, 2020, it is estimated this segment will consist of between 160,000 to 170,000 people. In order to provide these benefits for these individuals, we estimate it will cost approximately $130m for the fiscal year starting July 1, 2020. This is completely separate from the employer mandate, which is covered by private insurers."
Mr Whitmarsh said initial estimates were that the "employer mandate" would cost around $106m. He split this into $53m contributed by employers; a further $33m from employees; and a $20m balance from the Government to cover civil servants and public sector workers currently privately insured. The latest revisions are said to have reduced the burden on both employer and employee, and increased the Government's contribution to $22m,.
The NHI Authority statement said the $130m cost for persons outside the "employer mandate" will be financed via "a diverse mix of revenue sources", one of which is NHI's "existing budget allocation" that stands at $20m.
That leaves a further $110m to be located, but the NHI Authority said it would come from VAT paid on private health insurance premiums; a "reallocation" of resources from the Public Hospitals Authority's (PHA) existing $216m budget to cover services NHI will now provide; the $8-$10m that a "sugary drinks tax" may raise; and the scheme's own "risk equalisation" method.
However, neither the "sugary drinks tax" or the reallocation of VAT on health insurance premiums has been legislated or approved. And some 80-90 percent of the PHA's budget goes on staff costs, with the Princess Margaret Hospital operator also consistently facing an annual $30-$40m funding shortfall.
For some employers and employees, especially those whose group medical plans already include the benefits covered by the SHB, there will be relatively little change under NHI. Those whose insurance does not include all the SHB's benefits will have to adjust their coverage to ensure it does so, potentially increasing premium costs.
However, data unearthed by previous NHI-related research found that around 110,000-120,000 Bahamians are currently covered by private health insurance. Based on 206,000 persons being covered by the employer mandate, this suggests the employers of some 80,000-90,000 working Bahamians will now have to part-finance health coverage on their behalf.