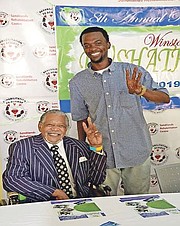 The Sandilands Rehabilitation Centre has officially launched its 2019 Geriatric Hospital Pushathon under the theme "Ready Steady, Push for Active Aging".
This is the eighth annual Geriatric Hospital Pushathon race event hosted by Sandilands to encourage mobility amongst the elderly while highlighting fitness at any age.
The race will be held on Saturday, April 27, at 6.30am, leaving from the Sandilands grounds. All ages are invited to participate and support.
"We aim to encourage older persons to participate and use it as an avenue for physical activity and social fun even if wheelchair bound. Physical activity and good social health promote health active aging," Sandilands said.
The Pushathon was first introduced in 2012 by Dr Indira Grimes, a consultant at the Geriatric Hospital, who believes the initiative demonstrates their serious approach to providing holistic care for the elderly residents as well as the elderly in the community.
Many families with older individuals as well as the older people themselves do not realise that even for the aged, physical activity is vital to sustain quality of life.
The Pushathon aims to encourage mobility in those 60 years and older through a fun and dynamic annual activity that will hopefully inspire increased physical activity all year round.
The general public's support is needed to encourage, assist and in some cases accompany the senior participants during the race.
Those interested in assisting should contact the Sandilands Rehabilitation Centre at 364-9600 to register as a participant or volunteer.
This year, the Geriatric Hospital's very own Winston Gaitor has agreed to be the event's patron and he is bringing along the hearty support of his family, including his faithful and winning pusher, his grandson, Kyle Fox.
"We also are so pleased and honoured to have emeritus committee members serving with us and ably assisting the hospital committee with public relations and community outreach for the event," said Sandilands.
These emeritus members include: Paul Fernander, Jamain Carey and Anastasia Carey of the St.Joseph's Catholic Church; Clifford Scavella and Yvette Ferguson.