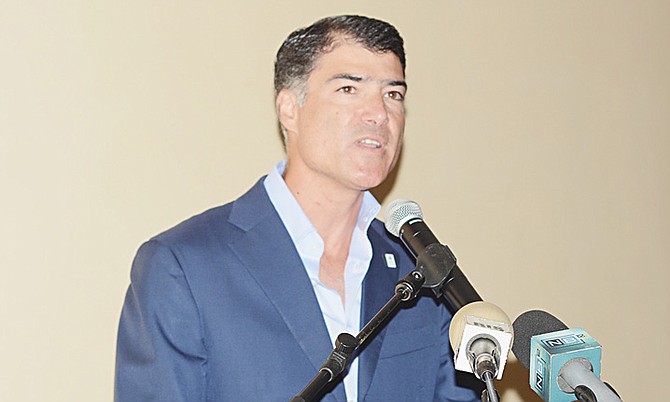 By NEIL HARTNELL
Tribune Business Editor
nhartnell@tribunemedia.net
Baha Mar's main contractor yesterday filed an appeal in the New York courts that seeks to overturn the earlier verdict upholding Sarkis Izmirlian's $2.25bn fraud and contract breach claim.
China Construction America (CCA), and its affiliates, are challenging "every part of the decision" by the New York State Supreme Court to reject its bid to halt the legal action brought by Baha Mar's original developer and instead send it to arbitration.
Legal papers obtained by Tribune Business, detailing the Chinese state-owned construction giant's grounds of appeal, contest "whether the trial court properly declined to compel arbitration where [Mr Izmirlian's] claims arise from, and are asserted, under a master construction contract (MCC) governing the construction of a resort in The Bahamas, and which contains a broad and mandatory arbitration clause requiring the arbitration of all disputes before the International Chamber of Commerce (ICC)".
The other two strands of CCA's appeal include "whether the trial court was properly permitted to determine the threshold issue of arbitrability, rather than referring that determination to the ICC as required under the MCC's arbitration clause and Supreme Court precedent, due to [Mr Izmirlian's] theory (made for the first time in opposition to the motion) that its claims arise from and are asserted under a separate agreement containing a New York forum selection clause".
And CCA's final challenge revolves around "whether the trial court properly declined to dismiss [Mr Izmirlian's] claims for lack of personal jurisdiction, forum non conveniens, lack of standing, failure to join a necessary party, and for failure to state a claim".
Mr Izmirlian and his BML Properties vehicle scored a comprehensive legal victory late last month when they successfully persuaded the New York State Supreme Court to reject CCA's attempt to throw their case out at the first hurdle.
Justice Saliann Scarpulla's verdict also required CCA to file a formal defence to the Lyford Cay resident's allegations by end-February 2019, while keeping the dispute before the court and thus in the public domain, although it is uncertain if that filing will now be delayed.
The Chinese state-owned contractor, which owns downtown Nassau's British Colonial Hilton, dislikes the publicity associated with events it is anxious to put behind it. This is revealed in transcripts filed with the New York State Supreme Court where its attorneys expressed the company's displeasure at continued coverage by Tribune Business.
Had Justice Scarpulla ruled in favour of CCA's arbitration bid, Mr Izmirlian's case would have been transferred out of the court and into mediation/dispute resolution hearings that are typically held behind closed doors and thus more private. Few to no details are made public.
In her ruling, Justice Scarpulla noted how Mr Izmirlian and his family lost their entire $845m equity investment in Baha Mar, along with "expected future profits", after the project's secured financier, the China Export-Import Bank, took possession of the mega resort and ultimately sold it to current owner, Chow Tai Fook Enterprises (CTFE).
Recalling the dispute, which dominated Bahamian national affairs between 2015-2017, she wrote: "BML Properties alleges that CCA.... failed to advise the Board of its findings and concerns regarding the project's construction as required by both the Investors Agreement and the Master Construction Contract (MCC).
"Specifically, BML Properties alleges that defendants failed to report accurately, or at all, the true state of its scheduling, deadline compliance, the amount or experience of its workforce and status of its procurement."
The judgment recorded Mr Izmirlian's allegations that he and his management team were prevented from "effectively monitoring the project's progress and governing its finances" by CCA's failure to provide it with the necessary records and documentation.
"BML Properties contends that the accuracy of the defendants' reporting directly affected its ability to predict and protect against risks to its equity investment," Justice Scarpulla added. "Despite defendants' repeated assurances, the project's most important building, the Convention Centre, was not timely completed."
Following fresh efforts to ensure Baha Mar's March 27, 2015, completion date was achieved, CCA received a $54m advance on disputed construction "change orders" prior to Mr Izmirlian and then-prime minister, Perry Christie, travelling to China in early January 2015 to obtain further assurance that this deadline would be met.
"BML Properties alleges that at the Beijing meeting, defendants knew - but did not disclose - that they did not have the resources and could not finish the project by the March 27, 2015 deadline," Justice Scarpulla wrote.
"In fact, a letter dated January 20, 2015 – 15 days after the Beijing meeting – from CCA to Yi, the chairman of China State Construction, requested additional workers and stated that 'the professional subcontractors failed to provide sufficient workforce in time' which 'will directly impact the target of opening on 27 March, 2015'.
"The January letter also stated that if the situation is not turned around, the result will be 'irreversible and catastrophic loss' and '[n]ot only will there be a daily delay penalty of $250,000, unmeasurable damages to the brand and reputation of CSCEC will also be caused."
Unaware of this letter, and relying on CCA's assurances that Baha Mar would be completed by March 27, Mr Izmirlian and his management team drew $20m from the project's credit facility; hired an extra 2,070 workers; and began taking reservations.
This all proved in vain, with Justice Scarpulla's judgment revealing: "On March 25, 2015, Reiss Engineering (the deputy inspector for the Ministry of Works, Government of The Bahamas), issued a letter to Baha Mar advising that CCA did not complete the project and could not even qualify for Temporary Certificates of Occupancy (TCOs), which the Government requires before any hotel room can be occupied by guests."
With the March 27, 2015, deadline missed, and the two sides further apart than ever, Mr Izmirlian filed for Chapter 11 bankruptcy protection at end-June 2015. This was ultimately dismissed to be followed by Baha Mar being placed into liquidation and receivership, from where the China Export-Import Bank and its agents ensured its ultimate sale to CTFE.
Justice Scarpulla ruled that Mr Izmirlian's BML Properties could use the investors' agreement with CCA to invoke New York as the appropriate location to resolve their legal disputes.
She found that there was nothing that bound Baha Mar's original developer to arbitration, and rejected CCA's argument that Mr Izmirlian and BML Properties could not bring "direct claims for a loss in the value of [their] equity investment as the loss simply reflects damages incurred by the company (Baha Mar)".
Justice Scarpulla said an action could be brought where one shareholder suffered a disproportionate loss in comparison to others, noting that a CCA affiliate held $150m worth of preference shares in the Baha Mar project.
The New York court also found that the original Baha Mar developer had provided enough evidence to "sufficiently plead" fraud thanks to the numerous e-mails, documents and meetings referenced. It also rejected CCA's argument that the fraud claims duplicated the breach of contract allegation.