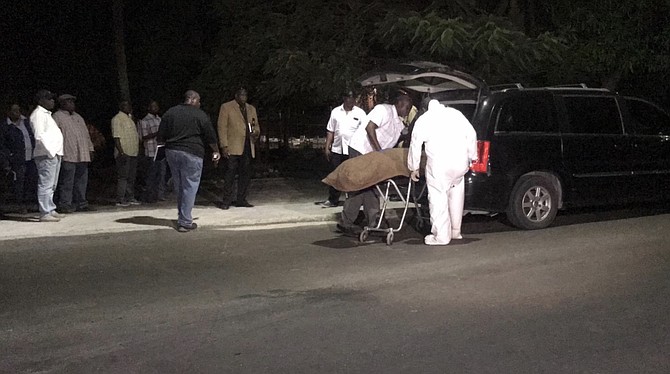 A MAN was shot dead in Fox Hill last night, becoming the fifth person killed since Saturday.
The death pushed the murder count to 11 so far this year, according to The Tribune's records.

"Shortly after 8pm police responded to the area of Fox Hill Park after receiving reports that gunshots were heard in the area," Supt Shanta Knowles, press liaison officer, said last night at the scene. "The officers cleared the park, discovered that gunshots were not in the area of the park and as they were driving west on Bernard Road, they saw a group of people running from a vacant lot ... the officers made a check of that lot and discovered a man laying with injuries to his body."
The victim appeared to be 40 to 45-years-old she said, and is known to police, however she did not release his identity. He was pronounced dead at the scene.
With a spate of murders in the past few days, Supt Knowles was asked if police suspected the killings were part of a gang war. However she said police did not have information at the time to connect the incidents.
"Right now they all appear to be random, as in the public has no need to fear," she said, adding police are investigating to see if there is a link to the murders and will inform the public if there is.
She appealed to those persons who were in the area of the shooting to contact police and give them information that can help the investigation.
This comes after three men were shot dead in separate incidents on Sunday and another man was killed on Saturday. Supt Knowles said police are making headway into the murders that occured on Sunday.
The first of Sunday's three murders took place shortly after 9am on Washington Street and Balfour Avenue. The second took place around 10am on Miami Street and Robinson Road. The third happened when a man was shot and killed at Potter's Cay Dock after 8pm.
A day earlier, on Saturday, a man was killed and another was injured following a shooting at a Haitian village off Cowpen Road. According to police reports, shortly before 1am, a group of Haitian nationals were hosting a party when two armed men emerged from bushes and opened fire, shooting two men. Paramedics were called to the scene and pronounced one of the men dead.
The other man was transported to PMH, where at last report he was listed in serious condition.
Anyone with information is asked to call police at 919, 502-9991 or Crime Stoppers at 328-TIPS.