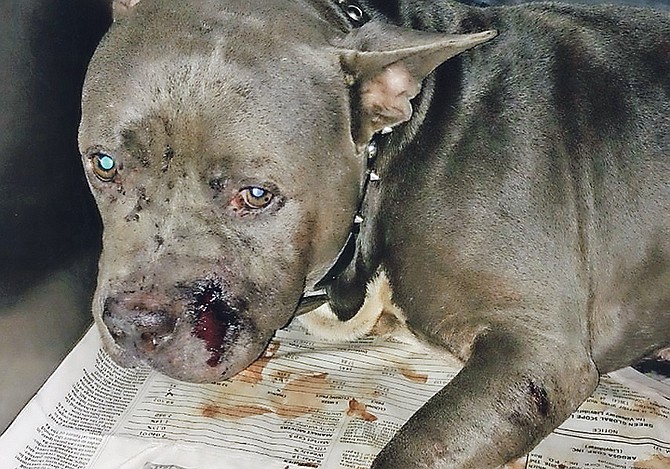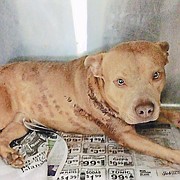 By MORGAN ADDERLEY
Tribune Staff Reporter
madderley@tribunemedia.net
TWO dogs were allegedly shot in their owner's yard by Royal Bahamas Police Force officers on Friday – an incident which has drawn the ire of Bahamas Humane Society president Kim Aranha.  
According to social media reports, the shooting incident occurred while officers were executing a search warrant at a residence. The dogs were said to have been tied at the time and not roaming free. 
Mrs Aranha told The Tribune yesterday she is "horrified" and "devastated" that "the police force would shoot tethered animals".
She added both dogs, which are "pitbull type", were shot twice and taken to the BHS for treatment. One dog underwent surgery yesterday due to a bullet being lodged in its jaw. 
"Obviously I wasn't there so I don't know what happened," Mrs Aranha said. "But I do know three things: one, that our ambulance driver had to undo the leashes that restrained the dogs in order to put them in the ambulance. So I do know categorically that the dogs were tied up.  
"I do know that the dogs were injured by being shot," she continued. "I've been told that the shooters were the (RBPF). I am horrified to read how many people on social media have had similar experiences. I am devastated that the police force would shoot tethered animals." 
Mrs Aranha noted both dogs were shot twice and both sustained injuries to their legs.  
"But the grey one, the bullet has remained lodged in his jaw so it is quite a delicate surgery," she added. "We are very hopeful that the surgery will be successful.
"I went to visit them yesterday. They're actually very, very nice dogs. They're very friendly and gentle dogs. 
"I'm just devastated that the police would have shot dogs that were tied up. They are of no danger to you if they're tied up — just walk out of reach…this is not target practice." 
Mrs Aranha also said the BHS has encountered such a matter before. 
"I cannot actually tell you who, what, where, and when. But this is not the first time we've had a dog in that's been shot by the police."
She went on to underscore the "horror" of "shooting an animal that is tied, can't run away for cover, can't get away."  
"And as it was tied, was posing no danger," she added.  
Mrs Aranha noted that the cost of the treatment is expensive. 
"I have had no contact with the (RBPF), but I will be sending them the bill," she added. 
The RBPF did not provide a comment on this incident up to press time.